Tension/Compression Sensors have ±8 kN measuring range.
Press Release Summary: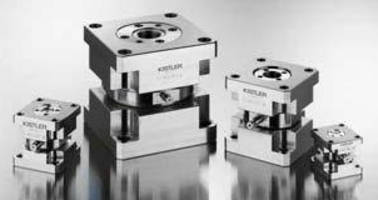 Preloaded in 42 x 42 x 42 mm sealed, stainless-steel housing, 3-component type 9327C Force Link sensors measure tension and compression forces regardless of point of application. Measurement ranges are Fx,y = ±4 kN and Fz = ±8 kN, and design is intended to reduce crosstalk as well as hysteresis. Operating from -40 to +120°C, sensors use V3 multipole connector and are available with optional IP67 protection. Applications include determining dynamic forces on vibrating tables.
---
Original Press Release:

New 3-Component Type 9327C with ±8 kN Measuring Range



Extends Force Link Series of Sensors Downwards

3-component force links are used in applications such as the determination of dynamic forces on vibrating tables and for product testing in industry and the laboratory. The compact, preloaded

Force Link sensors in a sealed, stainless-steel housing measure tension and compression forces extremely accurately, regardless of their point of application. Kistler now offers the advantages of its series of 3-component force links Type 93x7C, which has been updated since 2007, for smaller measuring ranges as well.

The new, more rigid Type 9327C with a measuring range of Fz = ±8 kN and a wide useful frequency range replaces the existing Types 9327A and 9328A, and supplements the existing series consisting of Type 9377C (measuring range Fz = ±150 kN), Type 9367C... (Fz = ±60 kN) and Type 9347C (Fz = ±30 kN). With the same compact dimensions of 42x42x42 mm as its predecessor, Type 9327C offers extended measuring ranges of Fx,y = ±4 kN (previously ±2,5 kN) and Fz = ±8 kN (previously ±5 kN).

In addition to these higher measuring ranges, improvements over its predecessor include reduced crosstalk, better linearity, less hysteresis, a temperature range significantly extended to -40 ... 120 °C and the optional IP 67 degree of protection. A compact yet robust V3 multipole connector replaces the three 10-32 neg. connections. It uses the same cable as the sensor Types 93x7C already introduced.

The key component of the 3-component Force Links Type 93x7C is their 3-component force sensors Type 90x7C. Calibrating the force sensor preloaded between a base plate and a cover plate produces a 3-component force link Type 93x7 ready for immediate use.

The new preloaded 3-component Type 9327C... extends the Force Link range downwards. It offers a wider measuring range (±8 kN) than its predecessor and numerous other improvements

Kistler Gruppe
Eulachstrasse 22 Tel. +41 52 224 11 11 ZKB Winterthur BC 732 IBAN: CH67 0070 0113 2003 7462 8
8408 Winterthur Fax +41 52 224 14 14 Swift: ZKBKCHZZ80A MwSt. Nr.: 229 713
Schweiz info@kistler.com Konto: 1132-0374.628 ISO 9001 zertifiziert www.kistler.com
300-665e-05.10

Kistler Group
Kistler's core competence is the development, production and use of sensors for measuring pressure, force, torque and acceleration. Kistler's know-how and electronic systems can be used to prepare measuring signals for use in analyzing physical processes, controlling and optimizing industrial processes, improving product quality in manufacturing and improving performance in sports and rehabilitation.

Kistler offers a comprehensive range of sensors and systems for engine development, automotive engineering, plastics and metal processing, installation technology and biomechanics. A worldwide sales presence in the form of 25 group companies and 30 distributors ensures customer proximity, application support on an individual level and short lead times. With a staff of about 1 000, the Kistler Group is one of the world's leading providers of dynamic measuring instrumentation. The Kistler Group achieved turnover of 166 million Swiss Francs in the 2009 financial year.

More from Software