Tenney Environmental Ships Vacuum Space Simulator to Aerospace Industry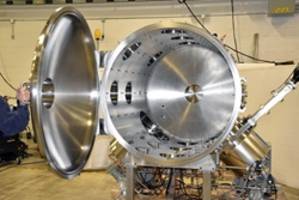 NEW COLUMBIA, PA. (PRWEB) JULY 19, 2018 - Tenney Environmental, announced the shipment of a vacuum space simulation system. This system is designed to test ionic thruster chips for space vehicle systems. The simulator will allow the customer to test their products in house, while replicating outer space conditions. The customer manufactures equipment for space.
The dual cryopump vacuum system is sized specifically to maintain the high vacuum while the thrusters are firing inside the vessel. The Tenney space simulation chamber design considers the OSHA, NEC, and ASME Code for Unfired Pressure Vessels.
The vacuum chamber is a horizontal cylindrical vessel constructed entirely of Type 304 stainless steel with a #4 interior and exterior finish. The overall internal dimensions of the vessel are 48" in diameter and 60" in depth. The vessel also includes multiple specialty access ports and an internal stainless steel removable grating shelf system, so the customer can place his products inside as needed.
"Tenney designed the cryopump control system to allow the customer the flexibility to automatically run one or both of cryopumps independent of each other using proprietary control logic for the gate valves. This provides the customer more gas load testing capabilities." 
– Rick Powell, Vacuum Products Manager
Unique features of this Tenney space simulation chamber include: 
1.0 x10-7 torr vacuum range
10SCFM at 80PSIG GN2 requirement
Single chamber access door
Dry screw style roughing pump
5 channel UHV Vacuum Gauge Controller
Cold Cathode UHV Sensor
1,000,000 duty cycle rated stainless steel high vacuum gate valves
Cryopump UHV system
A programmable logic relay system that fully automates the high vacuum operation
Designed for approx. 20,000l/s water vapor pumping speed.
Customer product placement stainless steel grate system
About Tenney Environmental 
Tenney boasts the most comprehensive line of standard and custom environmental test chambers and rooms in the industry. Known for innovative engineering design, robust construction, and superior performance, the Tenney line of test chambers is designed to meet all your temperature, humidity, altitude, vibration, and vacuum-testing requirements.
About Thermal Product Solutions, LLC (TPS) 
Thermal Product Solutions, LLC ("TPS"), is a leading American manufacturer of industrial ovens, furnaces, pharmaceutical sterilizers, laboratory ovens, environmental temperature chambers, and stability test chambers. TPS provides thermal processing and test solutions for a range of industries. TPS brands include Baker Furnace, Blue M, Gruenberg, Tenney, Lindberg, Lunaire, MPH, and Wisconsin Oven. For more information on equipment solutions from TPS visit the website at http://www.thermalproductsolutions.com.
Contact Information
Andrea Strand
Cutwing Marketing
http://www.cutwingmarketing.com
+1 2622480288
More from Health, Medical, & Dental Supplies and Equipment