Tenney Environmental Ships Reach-in Vacuum Chamber to Agriculture Industry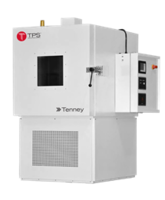 New Columbia, PA –June 11, 2018: Tenney Environmental, announced the shipment of a custom environmental reach-in temperature/humidity/vacuum cycling chamber. The thermal cycling chamber will be used for testing food grade material which required that it be designed with a mild wipe down exterior.
This 36 cubic foot thermal/humidity/altitude cycling chamber has an operating temperature range of -73°C to 177°C and is constructed with a type 316 stainless steel interior. The vacuum system is designed to transition from site pressure to 100,000 feet of altitude at an average rate of 1000m/minute or faster.
This reach-in vacuum chamber is designed with a cascade refrigeration system that utilizes two (2) 5 HP compressors. Structural reinforcement is used at all critical points and through wall ports are continuously welded. Rapid responding Nichrome wire heating elements are provided as the main air heaters.
"This Tenney vacuum chamber was designed with a sealed plexiglass door over the controller face and additional sealed areas that are easy to wipe down. Due to their application the chamber will not be washed down with a hose to clean it, just wiped down with cloth and water." – Rick Powell, Vacuum Products Manager
Unique features of this Tenney vacuum chamber include:
• 15"x15" vacuum rated heated insulated viewing window
• Programmable controller with touchscreen
• Continuously welded 316 stainless steel interior
• Two (2) 5.0 horsepower reciprocating type compressors
• Cascade type refrigeration system
• Nichrome wire heating elements
About Tenney Environmental
Tenney boasts the most comprehensive line of standard and custom environmental test chambers and rooms in the industry. Known for innovative engineering design, robust construction, and superior performance, the Tenney line of test chambers is designed to meet all your temperature, humidity, altitude, vibration, and vacuum-testing requirements.
About Thermal Product Solutions, LLC (TPS)
Thermal Product Solutions, LLC ("TPS"), is a leading American manufacturer of industrial ovens, furnaces, pharmaceutical sterilizers, laboratory ovens, environmental temperature chambers, and stability test chambers. TPS provides thermal processing and test solutions for a range of industries. TPS brands include Baker Furnace, Blue M, Gruenberg, Tenney, Lindberg, Lunaire, MPH, and Wisconsin Oven. For more information on equipment solutions from TPS visit the website at www.thermalproductsolutions.com. #127713
More from Health, Medical, & Dental Supplies and Equipment