Tenney Environmental Ships Reach-in Thermal Shock Chamber to Tier 1 Automotive Supplier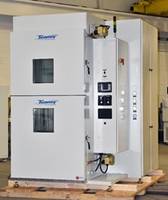 NEW COLUMBIA, PA. (PRWEB) OCTOBER 08, 2018 - Tenney Environmental, announced the shipment of another thermal shock chamber for the automotive industry. This chamber allows for many variations of thermal shock testing. The chamber will be used by a tier one auto supplier for thermal shock testing of automotive components.
This Tenney thermal shock chamber utilizes a 2- zone vertical configuration and horizontal airflow. The transfer basket has dimensions of 25" W x 23" D x 25". The cold chamber operating temperature range is -73°C to +40°C. The hot chamber operating range is +40°C and +200°C.
The automotive thermal shock chamber utilizes a cascade type refrigeration system with a water-cooled condenser. The chamber interior is constructed with a welded, vapor tight type-304 2B stainless steel liner.
"This Tenney thermal shock chamber includes an automated carriage transport that is designed to assure a tight seal and minimal frosting. During product testing, a vapor tight environment is critical to the process." – John Eldred, Regional Sales Manager
Unique features of this Tenney thermal shock chamber include: 
15 HP cascade refrigeration system (water cooled)
Synergy Quattro programmable temperature controller
Over/under temperature protection system
Automated carriage transport system
Dry air purge system
Reinforced stainless steel shelf
About Tenney Environmental 
Tenney boasts the most comprehensive line of standard and custom environmental test chambers and rooms in the industry. Known for innovative engineering design, robust construction, and superior performance, the Tenney line of test chambers is designed to meet all your temperature, humidity, altitude, vibration, and vacuum-testing requirements.
About Thermal Product Solutions, LLC (TPS) 
Thermal Product Solutions, LLC ("TPS"), is a leading American manufacturer of industrial ovens, furnaces, pharmaceutical sterilizers, laboratory ovens, environmental temperature chambers, and stability test chambers. TPS provides thermal processing and test solutions for a range of industries. TPS brands include Baker Furnace, Blue M, Gruenberg, Tenney, Lindberg, Lunaire, MPH, and Wisconsin Oven. For more information on equipment solutions from TPS visit the website at http://www.thermalproductsolutions.com.
Contact Information
Andrea Strand
Cutwing Marketing
http://www.cutwingmarketing.com
+1 2622480288
Contact This Company Download Spec Sheet
Related