Temperature Variable Attenuator comes in coaxial package.
Press Release Summary: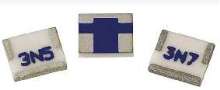 Thermopad® Coaxial TVA attenuators feature SMA male-to-SMA female interface and nominal impedance of 50 ohm. Able to cover dc to 6 GHz frequency range, devices exhibit VSWR of 1.35 at 1 GHz, attenuation accuracy of ±0.5 dB, and TCA tolerance of ±0.001 dB/dB/ºC. Products have operating temperature range of -55 to +150°C and feature 2.0 W power rating. Power derating is 100% at 125ºC, derating to 0% at 150ºC.
---
Original Press Release:
Popular Temperature Variable Attenuator now Comes in a Coaxial Package

The popular temperature variable attenuator Thermopad® from EMC Technology, a Smiths Interconnect company, now comes in a coaxial package. The new coaxial TVA version of the Thermopad® product line offers the same benefits as the popular standard temperature variable attenuator (cost-effective, high-performance and very reliable) but with the added benefit of a SMA male to SMA female interface.

Thermopad® Coaxial TVA attenuators feature a nominal impedance of 50 Ohms and cover the DC to 6 GHz frequency range. The new devices benefit from very low VSWR of 1.35 at 1 GHz, a high attenuation accuracy of ±0.5dB and a TCA tolerance of ±0.001dB/dB/ºC.

The coaxial Thermopad® is designed for an operating temperature range of -55 up to +150 degrees Celsius. It features a power rating of 2.0 Watts and power derating is 100 percent at 125 degrees Celsius, derating to 0 percent at 150 degrees Celsius.

About EMC Technology

EMC Technology was founded in 1963 and became part of the Smiths Interconnect division in 2000. EMC Technology provides custom-engineered solutions and a full line of surface mount terminations, attenuators, and resistive products. EMC Technology developed the Thermopad® temperature compensating attenuator, a passive component solution to temperature compensation problems, and the SmartLoad® temperature compensated RMS power sensing termination. These products are protected by two of the 25 U.S. patents awarded to EMC. EMC Technology has established itself as the technology leader in supplying engineering-based solutions in RF and microwave passive components. Markets for EMC Technology's products include the telecommunications, military, aerospace and satellite communications markets.

About Smiths Interconnect

Smiths Interconnect, a division of Smiths Group, is a global provider of electronic application specific components and sub-systems for the electronics interconnect, telecommunications, medical, industrial, aerospace as well as military and satellite markets worldwide.

Smiths Interconnect businesses comprise of; EMC Technology, Florida RF Labs, Hypertac Interconnect, LEA International, PolyPhaser, Radio Waves, Sabritec, Summitek Instruments, TECOM Industries, Times Microwave Systems, TRAK Microwave, Transtector Systems, Smiths Interconnect Shanghai and Smiths Interconnect Japan. Each business is a leader in its field and trades under their own strong brand name.

Further information contact:

Robert Barker

Product Manager

Smiths Interconnect - EMC Technology

8851 SW Old Kansas Ave.

Stuart, FL 34997

USA

Tel.: +1-772-286-9300

Fax: +1-772-283 5286

Email: rbarker@emct.com

Web: www.emct.com

OR

Anthea Collier

Business Services Manager

EMC Technology

8851 SW Old Kansas Ave.

Stuart, FL 34997

USA

Tel.: +1-772-286-9300

Fax: +1-772-283 5286

Email: acollier@rflabs.com

Web: www.emct.com
More from Communication Systems & Equipment