Temperature Transmitter has modular, programmable design.
Press Release Summary: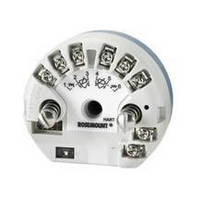 SIL2 safety-certified Rosemount® 644 has modular design that enables customized functionality at each process point to accommodate application requirements. Hot Backup™ and Sensor Drift Alert, included, ensure seamless performance in case of sensor failure and advance notification of potential issues. Local Operator Interface (LOI) option facilitates on-the-spot commissioning and in-field configuration, and menu structure grants immediate access to pertinent information.
---
Original Press Release:

Emerson Enhances Rosemount 644 Temperature Transmitter to Help Users Maximize Their Instrumentation Investment and Increase Productivity



The enhanced Rosemount® 644 features a modular design can easily be customized for any application



CHANHASSEN, MINN – Emerson Process Management has released an enhanced Rosemount 644 Temperature Transmitter, featuring ease-of-use improvements and a modular design that enables customized functionality at each process point.



"We are excited to unveil this innovative addition to Emerson Process Management's complete portfolio of temperature measurement solutions," said Nick Grant, Emerson Process Management's vice president of worldwide temperature.  "The 644 transmitter's modularity, along with its comprehensive diagnostics, unmatched accuracy and proven reliability, gives users valuable clarity  into their process so they can achieve much greater efficiency, reduce business and safety risks, and consistently meet production and quality targets."



The Rosemount 644 Temperature Transmitter's modular components give users the flexibility to truly maximize their instrumentation investment. Users can easily customize its base model to fit any application, so they only purchase what they need, and have more to spend on additional measurement points. A thoughtful, human-centered design makes the device easy to wire, with clear, straightforward diagrams and improved accessibility. A simplified transmitter interface and second sensor input help to minimize installation and maintenance time, and increase productivity.



Key capabilities now available in the 644 include Hot Backup™ and Sensor Drift Alert, which ensure seamless performance in the event of a sensor failure, and advance notification of potential issues so users can be proactive and maintain total process control. The enhanced 644 is SIL2 safety certified to meet any safety application requirement and users receive full documentation for easy SIS compliance. Its Local Operator Interface (LOI) option is new to the market, and provides a cost-effective and convenient solution for on-the-spot commissioning and in-field configuration. With its intuitive menu structure, users have immediate access to the information they need to troubleshoot issues, validate measurements or make adjustments to ensure efficiency and reliability.



For over 50 years Emerson's innovative Rosemount temperature portfolio has provided reliable temperature measurement to the process industry. For more information on Rosemount temperature devices, visit www.rosemount.com.



About Emerson Process Management



Emerson Process Management (http://www.emersonprocess.com), an Emerson business, is a leader in helping businesses automate their production, processing and distribution in the chemical, oil and gas, refining, pulp and paper, power, water and wastewater treatment, mining and metals, food and beverage, life sciences and other industries. The company combines superior products and technology with industry-specific engineering, consulting, project management and maintenance services. Its brands include PlantWeb™, Syncade™, DeltaV™, Fisher®, Micro Motion®, Rosemount®, Daniel™, Ovation™, and AMS Suite.



About Emerson



Emerson (NYSE: EMR), based in St. Louis, Missouri (USA), is a global leader in bringing technology and engineering together to provide innovative solutions for customers in industrial, commercial, and consumer markets around the world.  The company is comprised of five business segments: Process Management, Industrial Automation, Network Power, Climate Technologies, and Commercial & Residential Solutions.  Sales in fiscal 2011 were $24.2 billion.  For more information, visit www.Emerson.com.



CONTACTS:

Renee Munro, Emerson Process Management

1 (952) 949-7263,Renee.Munro@Emerson.com

Related