Temperature Sensors monitor thermal processing applications.
Press Release Summary: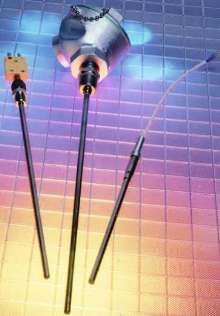 Tudor(TM) sensors include Tu-Pak® Thermocouple Sensors and Vacuum Furnace Thermocouple line. Duratherm IV® thermocouples offer vacuum tight seals and threaded process connections, while Series 9000 Noble Metal Thermocouple assemblies measure temperatures to 3,200°F. Series R102 Temperature Transmitter/RTD measures resistance changes as function of temperature. Resistance Temperature Detectors include Series R500 connector type, Series R100 head type, and Series R600 wire type.
---
Original Press Release:

Tudor(TM) Temperature Sensors from Athena Controls Provide a Broad Selection of Configurations and Improved Response to a Wide Choice of Temperature Ranges


Plymouth Meeting, PA; April 2004 - Athena Controls, Inc. (Athena) now offers a complete line of Tudor(TM) Temperature Sensors designed to monitor a wide range of thermal processing applications. The Tudor(TM) brand consists of twelve distinct product groups. These include Tu-Pak®, Industrial Process/Pressure Vessel, Bearing Metal, Base Metal, Noble Metal, Vacuum Furnace, Double-Tube, Wire-Type, Bayonet-Style, Melt Bolt, and Pharmaceutical Thermocouples; plus Series R102 Temperature Transmitters, and Resistance Temperature Detectors.

"No two sensor applications are the same," said Bob Heilman, Athena Sensor Product Manager. "That's why many of the sensors we offer are custom assembly configurations to meet most every thermal processing application need."

All stock Tudor(TM) Sensors and custom "special" orders are engineered to meet unique customer specifications. The accuracy of the Tudor(TM) brand meets industry technical society standards. All assemblies come pretested and ready to install. As required, sensors are calibrated to ASTM E 220 specifications, as well as MIL-C-45662, ANSI/NSCLZ540-1, and ISO 10012-1.

Tu-Pak® Thermocouple Sensors represent a departure from the traditional assembly of tubes, wires and insulators. It has improved thermal response and greater flexibility. Size for size, it has a longer life cycle than traditional thermocouple sensors. More information on the Tu-Pak® Thermocouple line is available online at: http://athenacontrols.com/pdf/catalog/tupak.pdf.

The Vacuum Furnace Thermocouple line offers high reliability and time-proven performance in widely diversified applications. Made from materials of the highest quality, many Duratherm IV® thermocouples offer vacuum tight seals and threaded process connections as standard features. More information on the Vacuum Furnace Thermocouple line is available online at:
http://athenacontrols.com/pdf/catalog/duratherm.pdf.

Series 9000 Noble Metal Thermocouple assemblies measure temperatures that range above that of base-metal couples to 3200°F (1760°C), or for more precise measurements at lower temperatures where the additional cost is justified. These assemblies come in a wide variety of ceramic primary protections tubes, and with ceramic or metal secondary protection tubes. More information on the Noble Metal Thermocouple line is available online at: http://athenacontrols.com/pdf/catalog/noblemetal.pdf.

Series R102 Temperature Transmitter/RTD measures resistance changes as a function of temperature, using a two wire 100 ohm platinum RTD sensor. The transmitter is housed in an explosion-proof enclosure, certified to Class 1 - Groups C & D and Class 2 - Groups E, F & G. The RTD temperature sensor is integrally mounted to the enclosure containing the electronic circuitry, permitting close-coupled mounting of the transmitter at the point of measurement. Features include two wire signal, long term stability, zero-span controls, and excellent repeatability. More information on the Series R102 Temperature Transmitter/RTD line is available online at: www.athenacontrols.com.

Resistance Temperature Detectors consist of three types. These include the Series R500 connector type RTD, 350°F (195°C) or 1000°F (556°C) max. with standard connectors, that features a variety of resistance elements, sheath diameters, and fittings; the Series R100 head type RTD, with cast aluminum, iron, or thermoplastic heads, that features open head, bayonet or screw cover mini-heads; and the Series R600 wire type RTD, with transition to lead wires with or without strain relief spring, or polyurethane coiled cord. 1/2" NPT x 1/2" NPT fittings are available. More information on the Resistance Temperature Detector line is available online at: http://athenacontrols.com/pdf/catalog/rtds.pdf.

About Athena Controls, Inc.
Located in Plymouth Meeting, Pennsylvania, USA, Athena Controls, Inc. designs and manufactures digital and analog temperature control instrumentation for applications in the process industries worldwide, ranging from plastics and packaging to food and pharmaceuticals. Athena offers temperature control solutions in three major areas of the control loop: panel and sub-panel controllers, SCR power handlers and solid-state relays, and temperature sensors. In addition to standard products, Athena custom engineers controllers to meet special customer requirements. Examples include special output types, temperature ranges in thermocouple, platinum RTD, and mA/mV inputs, as well as various display formats and control modes. Athena also provides total turnkey solutions, with custom control modules designed and manufactured to customer specifications.

More information is available by visiting www.athenacontrols.com, or contact: Jennifer Klinedinst, Athena Controls, Inc., 5145 Campus Drive, Plymouth Meeting, Pennsylvania 19462-1129 USA Tel: 610-828-2490 o Toll-free in USA: 800-782-6776 o Fax: 610-828-7084 jklinedinst@athenacontrols.com

More from Packaging Products & Equipment