Temperature Profiling System monitors solar cell production.
Press Release Summary: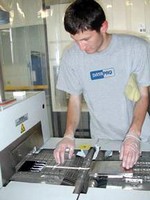 Created to monitor wafer temperature as it travels through furnace, Solar Cell temperature profiling system can be used for various thermal processes including contact firing/metallization, diffusion, PECVD, and lamination. It consists of data logger, thermal barrier, and analytical Insight(TM) software. Information such as peak temperature, time above temperature, slopes, and Delta T appear on results summary screen. Built in alarms alert when process is out of specification.
---
Original Press Release:

Solar Cell Temperature Profiling System by Datapaq



August 2008 - Datapaq's Solar Cell temperature profiling system was created to monitor the wafer temperature as it travels through the furnace - without disrupting production. Datapaq is proud to be the first company to develop a temperature profiling system designed specifically for the solar industry. This system can be used for various thermal processes including contact firing/metallization, diffusion, PECVD, lamination and others, which is critical to ensure PV cell efficiency

Consisting of data logger, thermal barrier and analytical Insight(TM) software, the Solar Cell system is easy to use, yet powerful to handle all your profiling needs. The data logger takes temperature readings of the wafer as it travels through the furnace. The data logger is placed inside a thermal barrier to protect it from the furnaces' heat. Datapaq's Insight software quickly and easily interprets the information gathered to give you an in-depth analysis of your process. Information such as peak temperature, time above temperature, slopes and Delta T appear on a results summary screen; giving you all of the process data at your fingertips. Alarms are also built in to alert you when your process is out of specification.

By using this system, you are able to:
o Pinpoint any hot or cold spots in your process
o Ensure your product meets specifications
o Save time and money setting up the furnace
o Maximize product through-put

Founded in 1984 Datapaq develops profiling systems that provide key information on the effectiveness of industrial heating processes. Using the most advanced and tested techniques for accurately gathering and storing information, Datapaq has created industry specific standards to analyze, synthesize and report information in a precise and succinct manner. Recognized as an industry leader, our products serve automotive, finishing, can manufacturing, textile processing, ceramic manufacturing, PCB surface mounting, heat-treating, and food processing industries throughout the world.

Datapaq, Inc.
187 Ballardvale Street
Wilmington, MA 01887

Contact: Melissa Sidlik
978-988-9000
reflow@datapaq.com
www.datapaq.com

More from Cleaning Products & Equipment