Temperature Profiling Package helps ensure product quality.
Press Release Summary: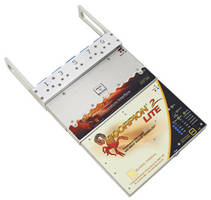 Intended for applications in manufacturing environments that utilize continuous conveyor process, SCORPION® 2 LITE Temperature Profiling Package enables measurement and monitoring of temperature levels in commercial ovens, cooling tunnels, freezers, and dryers. Package consists of SCORPION® 2 LITE Data Logger and Temperature Interface, which allow measurement of 10 temperatures at user-defined positions in thermal process to ensure consistency while minimizing substandard product/waste.
---
Original Press Release:

Reading Thermal Introduces SCORPION® 2 LITE Temperature Profiling Package



Solution offers a low cost-of-entry to Temperature Profiling and is expandable to Airflow, Energy Transfer and Humidity Profiling



ROBESONIA, PA – Reading Thermal (www.readingthermal.com), a leader in engineering and consulting for thermal process equipment and commercial processing ovens, has introduced the SCORPION® 2 LITE Temperature Profiling Package to provide customers with a convenient, low cost solution for measuring and monitoring temperature levels in commercial ovens, cooling tunnels, freezers and dryers.



Developed primarily for producers in the baked snack food industry, the system has demonstrated potential for application in a wide range of manufacturing environments that utilize a continuous conveyor process, such as meat processing, nut processing, electronics, aluminum can production, and more, said Richard Starke, Director, Reading Thermal.



The SCORPION® 2 LITE Temperature Profiling Package consists of a SCORPION® 2 LITE Data Logger and a Temperature Interface that provides the ability to measure 10 Temperatures at user defined positions in a thermal process.  This helps ensure consistency and high quality while minimizing the amount of substandard product or waste.



Particularly in commercial baking, having the ability to monitor temperatures from the beginning through the end of a continuous conveyor food processing system is crucial to ensuring the overall quality of a production line, said Starke. For example, baking bread in a continuous conveyor process requires the product to reach certain temperatures at specific times in the bake cycle. If those correlations aren't reached and monitored to ensure repeatability, product quality will suffer.



At $8,000 the SCORPION® 2 LITE Temperature Profiling Package offers an affordable, cost-effective solution to meeting the challenge of temperature monitoring, said Starke. In addition, customers who opt for this package will have the ability to upgrade to more advanced measurement capabilities such as airflow, energy transfer and humidity – while maintaining full compatibility with all existing SCORPION® equipment.



In addition to the Temperature Interface, the SCORPION® 2 LITE Data Logger is compatible with a new line of Magnetic Temperature Sensor Arrays which provide users with a low-cost technique to achieve fixed sensor repeatability across the width of a conveyor.  Furthermore, the SCORPION® 2 LITE Data Logger functions exactly like its full-featured Scorpion® 2 relative.  All connections, charging, user interface and software are identical to both systems, so that upgrading is an easy transition.  "If the customer decides to invest in additional monitoring capabilities, all the previous equipment will still be compatible for their upgraded system," said Starke. "They will not lose any compatibility. There is no additional software that the customer needs to buy. It's a very easy progression to achieving the capability to collect data for all oven parameters."



Reading Thermal is a part of Reading Bakery Systems, one of the world's leading manufacturers of innovative baking and process systems for the global baked snack business.  Based in Robesonia, Pa., with manufacturing facilities in Indianapolis, Ind., Reading Bakery Systems offers Thomas L. Green and Reading Pretzel production lines capable of producing a wide range of snack products, such as cookies, crackers, baked crisps, pretzels and bread snack products.  Exact Mixers from Reading Bakery Systems offer innovative continuous mixing solutions to several food industry segments, included baked snacks, pet treats, bread and buns, sweet goods, pizza, icings, fillings, tortillas and more.  Reading Bakery Systems also operates a state-of-the-art Science & Innovation Center in Sinking Spring, Pa.  The Innovation Center is a fully-equipped, licensed food processing research and development facility designed to help customers keep pace with the latest trends in food production.  For more information concerning equipment and services provided by RBS, visit www.readingbakery.com.

More from Materials