Universal Process / Temperature Controllers
Temperature/Process Controls feature 48 x 48 mm format.
Press Release Summary: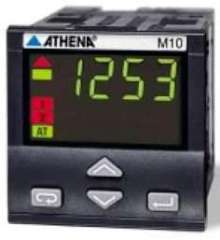 Platinum Series M10 and M400 1/16 DIN temperature controllers include Autotune software, dedicated auto/manual key, multiple standard outputs, and IP65-rated front panel. Platinum Series M5000 process controller with setpoint programming offers data acquisition and signal management, information transfer to supervisor, and ability to adapt to changing process conditions. In addition to M10 and M400 features, it includes 1 or 2 digital inputs and auxiliary power supply.
---
Original Press Release:

Platinum Series 'M' Line Of Temperature And Process Controls Offer Affordability And Compact 1/16 DIN - 48 X 48 mm Format Convenience


PLYMOUTH MEETING, PA ­ Athena Controls, Inc. (Athena) now offers the Platinum Series "M" Line of affordable temperature and process controls designed for the smallest 1/16 DIN - 48 x 48 mm space requirement. The Series M10, M400 and M5000 lines are engineered to meet the needs of a wide range of thermal control applications, including plastics, food processing, furnaces, packaging and environmental chambers.

The Platinum Series M10 and M400 temperature controller lines offer easy configuration and simple operation, combined with standard features like Autotune software, dedicated auto/manual key, multiple standard outputs, and IP65 environmental front panel protection (indoor, dust and water protection). Options include serial communications, analog control or retransmission output, transmitter power supply, startup and timer special functions, auxiliary current transformer input, choice of two front-bezel colors, and DIN rail mounting. More information on the Series M10 Line is available online at: athenacontrols.com/pdf/M10.pdf. Information on the Platinum Series M400 Line is available online at: http://athenacontrols.com/pdf/M400.pdf.

The Series M5000 process controller line with setpoint programming is the most sophisticated 1/16 DIN - 48 x 48 mm size controller in the Platinum family. The Series M5000 line offers high speed data acquisition and signal management, efficient information transfer to the supervisor, and the ability to adapt itself to changing process conditions. Standard features include Autotune software, dedicated auto/manual key, three standard outputs, one or two digital inputs, IP65 environmental front panel protection, and auxiliary power supply. Options include serial communications, analog control or retransmission output, remote setpoint input, feedback potentiometer input, current transformer input, logic output, one 16 segment setpoint program, and choice of two front-bezel colors. Some options are mutually exclusive. More information on the Series M5000 Line is available online at: http://athenacontrols.com/pdf/manuals/M5000brochure.pdf.

ABOUT ATHENA CONTROLS, INC.
Located in Plymouth Meeting, Pennsylvania, USA, Athena Controls, Inc. designs and manufactures digital and analog temperature control instrumentation for applications in the process industries worldwide, ranging from plastics and packaging to food and pharmaceuticals. Athena offers temperature control solutions in three major areas of the control loop: panel and sub-panel controllers, SCR power handlers and solid-state relays, and temperature sensors. In addition to standard products, Athena custom-engineers controllers to meet special customer requirements. Examples include special output types, temperature ranges in thermocouple, platinum RTD, and mA/mV inputs, as well as various display formats and control modes. Athena also provides total turnkey solutions, with custom control modules designed and manufactured to customer specifications.

For more information contact: Doug Crowell, Athena Controls, Inc., 5145 Campus Drive, Plymouth Meeting, Pennsylvania 19462-1129 USA Tel: 610-828-2490; Toll-free in USA: 800-782-6776; Fax: 610-828-7084; dcrowell@athenacontrols.com

More from Computer Hardware & Peripherals