Temperature Probe stores data to Bluetooth-enabled device.
Press Release Summary: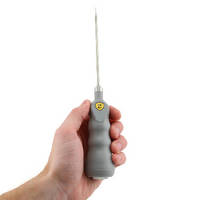 With BlueTherm(TM), users can measure, record, and download temperature data to HACCP and food safety compliance systems with Bluetooth-enabled device, eliminating need for paper logs. Unit utilizes type K thermocouple with temperature range of -58 to 572°F and reach up to 65 ft. Readings are displayed in 4 seconds with accuracy to ±0.7°F. Equipped with dual LED for power status and communication transfer, probe uses HACCP-Mobile(TM) software for Windows®, which syncs with iPhone and Android.
---
Original Press Release:

HACCP Temperature Management Just Got A Little Smarter



The new BlueTherm(TM) probe from ThermoWorks eliminates paper logs and stores HACCP temperature data directly to your SmartPhone

Lindon, UT - Today, ThermoWorks, (www.thermoworks.com), introduces the BlueTherm(TM) temperature probe - an advanced way to measure, record and download temperatures to HACCP and food safety compliance systems with a bluetooth enabled device that effectively eliminates the need for paper logs and clipboards.

The BlueTherm(TM) includes HACCP-Mobile(TM) software for Windows®, that syncs with existing mobile devices including the iPhone and Android (via Apps). Cumbersome cables and connectors are eliminated; line checks and critical-control-point recording can be logged without ever having to write anything down. Features include a dual LED to indicate power status and communication transfer, a software development kit (SDK) for system integrators and HACCP software firms, and a reduced-tip probe for fast and accurate temperature readings.

The bluetooth-enabled BlueTherm(TM) utilizes a type K thermocouple that has a temperature range of -58° to 572°F (-50° to 300°C), a reach of up to 65 feet and the potential to be integrated with customer software.

The BlueTherm(TM) includes a fast-response probe for readings in 4 seconds with an accuracy to ±0.7°F (±0.4°C). (BlueTherm(TM) Windows/Android $199, BlueTherm(TM) iOS $229)

Visit www.thermoworks.com for more information about the BlueTherm(TM) and other products in the ThermoWorks product line.

BlueTherm(TM) Resources:

Description: http://ow.ly/9q7FM

Specifications: http://ow.ly/9q7IS

More Info: http://ow.ly/9q7Nl

Contact:

Jesse Black

ThermoWorks, Inc.

1762 W. 20 S. #100

Lindon, UT 84042

800.393.6434

About ThermoWorks:

ThermoWorks is all things thermal. Thermometers, sensors, handheld instruments, loggers, controllers and calibration gear. You will find ThermoWorks' award-winning products in virtually every industry, from commercial kitchens to food processing, farming operations, grocery stores, pharmaceutical makers, construction, manufacturing and research science. Equipped with a state-of-the-art calibration lab, ThermoWorks ensures that each one of their products measures up to the world's leading temperature calibration standards. Whether you want to measure temperature in a backyard BBQ, a chain of a thousand hamburger shops, or in the transport of critical pharmaceutical products, ThermoWorks can help you find a solution.

More from Materials