Temperature Monitoring Systems utilize photonic sensing.
Press Release Summary: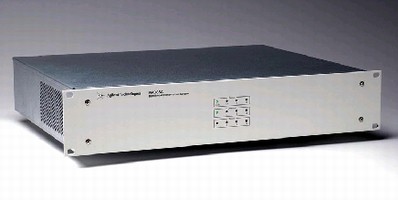 Fiber-based distributed temperature sensing systems, Models N4385A and N4386A monitor temperature over long distances to optimize production or to detect leaks or fires. Using Raman effect, indoor Model N4385A, used for fire and power cable applications, and outdoor Model N4386A, suited for oil and pipeline applications, provide temperature profile across distances up to 8 km, with spatial resolution of less than 1 m, and temperature resolution of less than 0.1°C/0.2°F.
---
Original Press Release:

Agilent Technologies Introduces Industry's Most Reliable Indoor/Outdoor Fiber Distributed Temperature Sensing Systems



Products enable fast, cost-efficient photonic sensing of temperature in oil/gas, power cable monitoring, fire detection applications

Agilent Technologies Inc. (NYSE: A) today introduced the industry's most reliable, integrated fiber-based distributed temperature sensing (DTS) systems that enable affordable photonic temperature sensing for a wide range of industry applications, such as oil and gas producers, pipeline operators, electrical power distributors and security system operators. The rugged Agilent N4385A and N4386A DTS accurately and reliably monitor temperature over long distances to optimize production or to detect leaks or fires.

Agilent DTS' breakthrough environmental-condition operation range, size, cost, accuracy and reliability will enable oil companies, for example, to have permanent downhole performance monitoring, resulting in increased production of low flow wells, and will enable security applications to more quickly detect fires in cable trays and tunnels.

Both products' architecture uses a code correlation technique to achieve the highest level of accuracy, reduce power consumption and increase the instrument's lifetime. Using the Raman effect, the Agilent N4385A indoor system for fire and power cable applications and the N4386A outdoor system for oil and pipeline applications provide a complete temperature profile across distances of up to 8 km, with a spatial resolution of less than 1 m and a temperature resolution of less than 0.1 C / 0.2 F.

"We have tested the Agilent DTS unit in a special hazardous application and are very impressed," said Dr. Stephan Grosswig, CEO at the Company for Sensors, Geotechnical Environmental Protection and Mathematical Modeling (GESO), the expert solution provider in a variety of distributed temperature sensing applications for more than 10 years. "Agilent rigorously designed quality into the product, and the level of integration and unique optical assembly technology ensures repeatable, accurate measurements and easy deployment."

Reservoir Performance and Pipeline Management
Today's oil and gas well management requires real-time, continuous downhole monitoring to optimize the economic and operational performance of the assets (intelligent well). Through the combination of the DTS data and geothermal gradient, a deep insight into the well behavior is generated, which allows operators to analyze the flow volume and changes per section. This next-generation DTS technology enables deployment of economic solutions for even low-producing wells.

Modern pipeline management needs to assure pipeline integrity, immediate leakage detection and risk mitigation. Agilent's DTS provides the capability to monitor the entire downstream process at once and identifies leakages down to the exact location of the incidents, even in hazardous processes. Benefits of the N4386A include:
Cost-effective deployment without extra cooling or buildings.
Real-time data for leakage detection.
Sensitive well analysis over long periods through extremely high measurement repeatability for indoor and outdoor environments, which allows identification of water breakthroughs and reservoir trends more effectively than intervention-based monitoring.

Power Cable Monitoring
Distributed temperature monitoring also enables continuous monitoring of high-power cables. The DTS helps the asset operators detect hot spots and delivers operational status, condition assessment and power circuit rating data, optimizing the transmission and distribution networks and reducing cost of operation and capital. Benefits of the N4385A include:
Power cable investment protection with the monitoring of alarm conditions by "in limit" operation, avoiding unplanned network failures and assisting in contingency planning.
Real-time monitoring based on high temperature and spatial measurement resolution (0.1 C; 1m) and extremely high measurement repeatability, providing insights into utilization level, for example, resulting in deferment of capital expenditure or higher utilization.
EMI-proof fiber optic, which also allows for easy deployment to existing and new assets.

Fire Detection
Fire security systems demand highly reliable and extremely quick heat detection. Especially in hazardous environments, solutions need to be immune to interference or deceptive alarms. The fiber-based linear heat detection of the DTS is especially suitable for fire detection, as it leaves no area unmonitored, visualizes the real-time temperature development and heat direction of the entire area at once, and can even automatically actuate the protective systems in the affected zones. Benefits of the N4385A include:
Industry-leading quality and lifetime expectations, as well as an integrated permanent system health check, which result in highest security level, lowest downtime, and reduced number of deceptive alarms.
Integrated alarm analysis and relay board, which enables precise and selective activation of fire distinguishing systems addressing only the affected area.
Online visualization of the fire and heat direction, easy system integration and standard interfaces that show the fire department the best way to attack the fire.

"Our customers need a highly reliable solution that can cost-effectively identify temperatures along their entire processes," said Werner Berkel, vice president and general manager of Agilent's Photonic Measurement Division. "The Agilent DTS meets these needs, providing worry-free permanent monitoring, reduced cost of operation and increased efficiency."

U.S. Pricing and Availability
The Agilent N4385A and N4386A are available on March 1, 2006. Pricing information can be retrieved at +1 800 829 4444, item number 8037.

More information about the Agilent N4385A and N4386A DTS is available at www.agilent.com/find/dts.

About Agilent Technologies
Agilent Technologies Inc. (NYSE: A) is the world's premier measurement company and a technology leader in communications, electronics, life sciences and chemical analysis. The company's 21,000 employees serve customers in more than 110 countries. Agilent had net revenue of $5.1 billion in fiscal 2005. Information about Agilent is available on the Web at www.agilent.com.

Contact:
Janet Smith, Agilent
+1 970 679 5397
janet_smith@agilent.com

More from Electrical Equipment & Systems