Temperature Sensors / Detectors / Transducers
Temperature/Humidity Sensor features IP67 electronics.
Press Release Summary: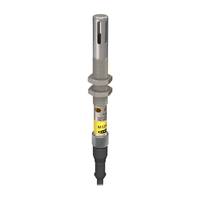 Optimized for use with SureCross Wireless Network, SureCross Temperature and Humidity Sensor provides relative humidity measurement with ±2% or ±3.5% accuracy (depending on model), temperature accuracy of ±0.3°C, and resolution of 0.1°C. Manufactured with rugged metal housing and IP67 electronics, it provides maintenance-free operation, and features serial sensor interface that enables unit to operate on FlexPower(TM) battery supply for up to 20 yr.
---
Original Press Release:
Factory-Calibrated Temperature & Relative Humidity Sensors Pair with SureCross Wireless Network
Minneapolis, MN - August 7, 2008 - Banner Engineering Corp. introduces the SureCross Temperature and Humidity Sensor, robust instrumentation optimized for use with the company's SureCross Wireless Network. The SureCross Temperature and Humidity Sensor is factory-calibrated to determine relative humidity to ±2% or ±3.5% (depending on model) and delivers temperature accuracy to ±0.3°C for simple critical data monitoring. Manufactured with a rugged metal housing and IP67 electronics, it provides maintenance-free operation in a wide variety of environmental monitoring applications. Banner designed a proprietary serial sensor interface that enables the Temperature and Humidity Sensor and the wireless Node to operate on a FlexPower(TM) battery supply for up to 20 years. Fixed and remote-mount Node and sensor models enable a wide range of installation scenarios, including in-duct and freestanding applications. For remotely mounted sensors, cables in lengths up to 3 meters are available. A hydrophobic membrane filter for general applications and a sintered stainless steel filter for hostile drying areas are available to meet the requirements of the most demanding environments. The sensor can be paired with a Node that includes an integral battery supply or an external power source including battery, solar or 10-30V dc. With an external power supply, two Temperature and Humidity sensors can be used with a single wireless Node. Each Node is equipped with an LCD and data is displayed in degrees C or F and relative humidity is in a percentage from 0-100%. The Node can be installed as a stand-alone device, or it can work in conjunction with a Gateway, the wireless network controller. The SureCross Wireless Network provides a robust, reliable wireless solution with bidirectional fully acknowledged data transmission. This network employs Frequency Hopping Spread Spectrum (FHSS) and Time Division Multiple Access to ensure the most reliable data delivery possible. The Gateway supports multiple communication outputs and seamlessly integrates with existing wired control systems. If radio frequency links are lost, all relevant outputs can be set to user-defined conditions until the links are reestablished. This deterministic wireless capability makes the products simple to install and more cost-effective than conduit, delivering a reliable, long-lasting solution. "Monitoring the optimal temperature and humidity in controlled storage areas is crucial to ensuring optimum product quality-and if this environment is not sufficiently maintained, the stored products can quickly become compromised," said Chris Dales, Senior Application Engineer, Banner Wireless Division. "The Temperature and Humidity Sensor delivers highly accurate results that are simply transmitted using the communications-integrity-ensured SureCross Wireless Network, and users can select the power method that works best for their individual applications." Dales adds, "With this arrangement, if temperature or humidity exceed acceptable limits, a remotely located Gateway can issue an alarm to management personnel, minimizing the risk of product damage or loss." Applications The SureCross Wireless Network equipped with the serial sensor interface and factory-calibrated Temperature and Humidity Sensors deliver dependable monitoring in a broad range of environments, including: o Large-scale refrigeration and cold chain storage systems
o Greenhouses
o Warehouse areas
o Pharmaceutical
o HVAC
o Textiles
o Energy management
o IT resources and data centers In addition, several unique features of the SureCross Temperature and Humidity Sensor and Wireless Network make them particularly effective and easy to use: o Provides relative humidity measurement with ±2% or ±3.5% accuracy (model specific)
o Delivers temperature accuracy of ± 0.3°C and resolution of 0.1°C
o Features a proprietary serial sensor interface optimized for use with FlexPower
o Offers multiple filter options to meet a wide range of environmental requirements
o Ensures signal transmission reliability by pairing FHSS technology and TDMA architecture with bidirectional communications
o Offers alarm capabilities through a remote SureCross
o Gateway to inform management personnel when temperature or humidity has exceeded acceptable levels
o Provides time-efficient installation and cost-effective, convenient operation relative to any wired solution Learn more about the SureCross Temperature and Humidity Sensor and Wireless Network options. About Banner. Banner Engineering is the world's leading manufacturer of photoelectric and ultrasonic sensors, vision sensors, electronic machine guarding systems, wireless networks, fiber optic assemblies and precision measurement systems. For further information, contact
Banner Engineering Corp.,
PH: 888.373.6767 (Toll-free North America), or
001.763.544.3164 (International)
FAX: 763.544.3213
Email: sensors@bannerengineering.com E-commerce: www.buybanneronline.com
Web: www.bannerengineering.com
More from Packaging Products & Equipment