Temperature/Humidity Logger features USB connectivity.
Press Release Summary: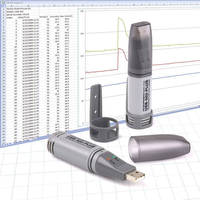 Suited for long- or short-term logging applications requiring high accuracy, compact battery powered USB-502-PLUS measures and stores up to 16,382 RH and 16,382 temperature readings over 0-100% RH and -35 to +80°C (-31 to +176°F) measurement ranges, and calculates dew point. Flashing LEDs indicate logging status, and replaceable lithium battery allows up to 1 yr of logging. Text or .csv file types are supported allowing users to export logged data to Excel spreadsheets and reports.
---
Original Press Release:

New High-Performance Temperature/Relative Humidity Logger



NORTON, Mass.-June 12, 2009-Measurement Computing Corporation, the market leader in low-cost data acquisition, today announced the addition of a new battery-powered temperature/humidity logger with superior accuracy. The USB-502-PLUS is a cost-effective solution for both long- or short-term logging applications in which accuracy and small size are important.

The USB-502-PLUS standalone data logger measures and stores up to 16,382 relative humidity and 16,382 temperature readings over the 0 to 100% RH and -35 to +80 °C (-31 to +176 °F) measurement ranges, and calculates dew point. Flashing LEDs indicate logging status, and a user-replaceable long-life lithium battery is included, which can typically allow up to one full year of logging.

The USB-502-PLUS logger is supported by USB-500 Series Data Logging Application software, included with the package. This user-friendly, intuitive software is used initially to configure the logger, program alarm thresholds, logging rates, start times, and measurement units, etc. When the logger is retrieved from the field, the software provides simple one-click access to download, display, and export the data. The user can display time-stamped temperature, relative humidity, dew point, and alarm limits on a powerful strip chart graph. The data can also be downloaded to a text or a .csv (comma separated values) file. Supporting these file types allows users to export the logged data easily to Excel spreadsheets and reports with a single mouse click. The software and Measurement Computing USB-500 series data loggers are compatible with Windows 2000/XP/Vista.

"This new USB-502-PLUS is amazing. It is a high-performance version of one of our most popular loggers, the USB-502. The PLUS version offers three times the temperature measuring accuracy, one and a half times the relative humidity accuracy, and nearly twice the dew point accuracy," explained MCC sales vice president Bill Kennedy, "It's a battery-powered logger that's small enough to put almost anywhere, yet it's significantly accurate for some pretty demanding applications."

The USB-502-PLUS sells for $110.

About Measurement Computing

Measurement Computing is the market leader in the design, manufacture, and distribution of low-priced data acquisition hardware, and test and measurement software solutions for both programmers and non-programmers. Information about Measurement Computing is available on the Web at www.mccdaq.com.

Availability USB-502-PLUS
Price $110
Status 12 June 2009

Measurement Computing Corporation
10 Commerce Way,
Norton, Massachusetts 02766
Tel: (508) 946-5100
Fax: (508) 946-9500
Email: info@measurementcomputing.com
Web site: www.measurementcomputing.com
www.mccdaq.com

Contact: Dan Mandill
Marketing Coordinator
508-946-5100 x219
dan.mandill@mccdaq.com

More from Optics & Photonics