Temperature/Humidity Chambers operate at noise levels below 55 dB.
Press Release Summary: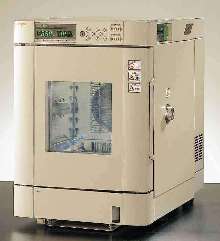 Bench-top chambers incorporate refillable water tank and have interior volumes from just under 1 ft³ to 2.2 ft³. SH series chambers perform temperature and humidity testing, while SU series units perform temperature testing. Externally, smaller units measure 17 x 27 x 25 in. high and weigh less than 175 lbs. Offered with 3 temperature ranges, lower limits are -4, -40, or -76°F; upper limit is 302°F. SH chambers have operating humidity range of 30 to 95% RH.
---
Original Press Release:

New Series of Ten Bench-Top Temperature and Humidity Chambers Provide the Performance of Larger Chambers in Convenient Sizes


Ten new bench-top temperature and humidity chambers from ESPEC solve a common problem in high-performance environmental testing. In the past, this testing has required large, noisy chambers with special utility connections. ESPEC's new models run on standard power and feature an easy-to-fill water tank, allowing smaller companies and laboratories to perform temperature and humidity testing in a much smaller space.

The five SH series chambers can perform temperature and humidity testing, while the corresponding SU series units perform just temperature testing. The new chambers come in two interior volumes, and they occupy only half the bench space of conventional benchtop chambers. Externally, the smaller units measure 43 cm wide x 69 cm deep x 64 cm high (17 in x 27 in x 25 in) and weigh less than 80 kg (175 lbs).

The new test chambers offer three different temperature ranges with lower limits of -20°C (-4ºF), -40°C (-40°F), or -60°C (-76°F) and an upper limit of 150°C (302°F). All SH series chambers have an operating humidity range of 30 to 95%RH. A programmable controller allows ramping and cycling between set points.

The interior volume of the SH and SU -221, -241 and -261 chambers is just under one cubic foot (22.5 liters). Interior dimensions are 30 cm wide x 25 cm deep x 30 cm high (12 in x 10 in x 12 in). The slightly larger SH and SU -641 and -661 units feature a capacity of 64 liters (2.2 cubic feet). The interior of these units measures 40 cm wide x 40 cm deep x 40 cm high (16 in x 16 in x 16 in). These dimensions make the new chambers suitable for testing fiber optic and electronic components, wireless phones, and a variety of materials.

SH and SU series chambers are extremely energy efficient. They utilize an improved refrigeration system that can reduce energy consumption up to 55% compared to older models. Operation is quiet, with an ambient noise level below 55 dB. The smaller units run on standard 115V power, while the SH and SU -641 and -661 utilize 208V single-phase power.

SH series chambers feature a new cartridge water tank that is removable for easy filling, so no plumbing connection is required. The units can operate for over a week with a single filling of water, and refilling can be done while a test is still in process.

Available options include a large viewing window for sample observation, optional stands for stacking up to three chambers, and a right-opening door. An RS-485 communications port is standard for centralized control and remote operation, but optional RS-232C and GP-IB ports are also available with software.

About ESPEC
ESPEC NORTH AMERICA is a division of ESPEC CORP., the world's largest manufacturer of environmental test chambers. ESPEC has been manufacturing test chambers in the U.S. since 1983, and the company's product line includes more than 150 test chamber models. ESPEC test chambers are used by manufacturers of electronics, semiconductors, telecommunications, automotive parts, and many other industries. ESPEC's U.S. manufacturing, sales, and service are headquartered in Grand Rapids, Michigan.

For more information about the new SH and SU series temperature and humidity chambers, call ESPEC at 877-463-7732 (toll-free) or 616-878-0270, fax 616-878-0280, or visit www.espec.com.

More from Machinery & Machining Tools