Temperature Data Loggers help comply with HACCP regulations.
Press Release Summary: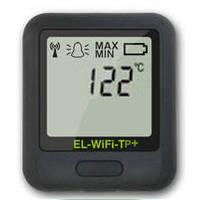 Designed for food and beverage manufacturing processes and protection at every step of cold chain, WiFi High Accuracy Temperature Data Loggers provide Title 21 CFR part 11 electronic documentation. Sensors measure temperature of environment from -40 to +125°C with ±0.1°C accuracy. Via WiFi network, battery-powered loggers can transmit data to PC for viewing and printout. If product temperatures go out of specification, loggers send out automated alarms so users can take preventative actions.
---
Original Press Release:

High-Precision Wireless Temperature Monitoring for Your Cold Chain



CAS DataLoggers Delivers Compliance with USDA/FDA and HAACP Regulations



CHESTERLAND OH – CAS DataLoggers has partnered with Lascar to offer the WiFi High Accuracy Temperature Data Logger, designed for food and beverage manufacturing processes and protection at every step of the cold chain. These loggers assist your compliance with HACCP regulations and also provide Title 21 CFR part 11 electronic documentation. WiFi capable for remote monitoring applications, the new dataloggers are the perfect solution for preventing and eliminating food hazards at critical control points. The loggers also send out automated alarms when your product temperatures go out of specification so that you can take preventative actions before further hazards develop. These new data loggers provide an amazingly affordable solution for temperature data recording for many products including fresh fish, meat and poultry, produce, and more.



HACCP guidelines mandate that health measures need to be closely monitored at each control point, and our data loggers are ideal in this role to prove best practices and help your business achieve compliance. The WiFi datalogger's sensor measures the temperature of its environment at a wide range of -40 to +125°C (-40 to +257°F), and the current temperature reading is shown on its built-in display. The WiFi logger records product temperatures at a high accuracy of +/-0.1°C (-10 to +70°C). Using the logger software it's easy to set high and low alarms which are equivalent to HACCP critical limits for each of your monitoring points.



With these remote sensors, you never have to worry about losing your temperature data thanks to their robust wireless communications protocol. The data logger utilizes wireless connectivity to transmit all the data via a WiFi network to a PC for viewing and printout. During setup the data logger sensor searches for an existing wireless network while physically connected to a PC. If the sensor temporarily loses connectivity, it will keep recording until it is able to communicate again with the PC application (for a maximum of 120 days at a 10-second sample interval). You can increase the sensor range by using WiFi extenders. The main unit is rated IP55 for solid protection while the probe is rated IP67.



Each datalogger runs on a rechargeable internal lithium polymer battery, providing a reliable low-power solution. When configured using typical sampling periods (e.g. once every minute) the sensor will operate for over a year.



The loggers also assist your HACCP plan verification and validation by documenting their readings, which are accessible using Lascar's FREE EasyLog datalogging software. Available for free download online, the software is compatible with Windows XP, Vista and 7 (including 64-bit operating systems). Users can choose sensor names, record data in either Celcius or Fahrenheit, select sampling rates, and define high/low alarms. Once configured, historic data can be viewed via the graphing tool or exported to Excel.



Help protect your temperature-sensitive products today using wireless remote monitoring!



For more information on the new WiFi Hi-Accuracy Temperature Probe Datalogger, other economical Lascar dataloggers, or to find the ideal solution for your application-specific needs, contact a CAS Data Logger Applications Specialist at (800) 956-4437 or visit the website at www.DataLoggerInc.com.



Contact Information:

CAS DataLoggers, Inc.

12628 Chillicothe Road

Chesterland, Ohio 44026

(440) 729-2570

(800) 956-4437

sales@dataloggerinc.com

www.dataloggerinc.com

More from Material Handling & Storage