Universal Process / Temperature Controllers
Temperature Controllers support PID control.
Press Release Summary: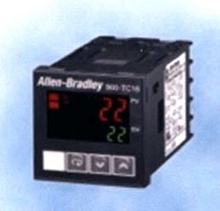 Allen-Bradley Bulletin 900-TC controllers are available with 5, 3, and 2 A relay contacts, and 12 Vdc fixed voltage outputs to drive solid-state relays. Dual-LED displays and multi-function keypad on front panel let users program and monitor temperature control parameters. Controllers have PID auto-tuning and self-tuning functions, and support on/off control. Applications include plastic wrapping, injection molding, commercial ovens, and kilns.
---
Original Press Release:

New Temperature/Heater Controllers from Rockwell Automation Provide Flexible, Cost-Effective Heat Control


Allen-Bradley Bulletin 900-TC temperature controllers bring reliability, versatility and space-saving efficiency for heating/temperature control applications

MILWAUKEE, June 3, 2002 - Design engineers seeking to maximize space, functionality and reliability for electric heater and on/off temperature control applications now have a cost-effective, easy-to-use solution with the new Allen-Bradley Bulletin 900-TC temperature/heater controllers from complete automation leader Rockwell Automation.

The Allen-Bradley temperature controllers feature flexible, multi-function control, easy-to-view LED displays, plus auto-tuning and self-tuning capability for improved control efficiency and fast startups. The controllers deliver a cost- and space-saving solution for a range of on/off electric heating and temperature control applications, such as plastic wrapping, injection molding, commercial ovens and kilns.

"By combining maximum versatility into a compact, easy-to-use package, users get operational simplicity, along with the sophisticated control needed to quickly and easily set up and monitor temperature control," said Dennis Schneider, product manager, Rockwell Automation. "With uniform operation across the new controller line, users can migrate from one size to the next, or intermix controllers as the application demands, with greater ease and simplicity."

The Bulletin 900-TC controllers are available in 5 amp, 3 amp and 2 amp relay contacts and 12 V DC fixed voltage outputs to drive solid-state relays such as the Allen-Bradley 700SX line. Dual 4-digit LED displays on the front panel of the controller allows operators to instantly compare process and set point values, resulting in faster control decisions.

PID and on/off control. The new temperature controllers support PID as well as on/off control. PID control minimizes on/off temperature swings and helps stabilize workload temperature, improving control efficiency. PID auto-tuning and self-tuning functions enable the controller to automatically seek and set the optimum PID tuning parameters for fast system startups, with minimal operator application knowledge required.

Keypad control. A multi-function front-panel keypad on the Bulletin 900-TC enables users to easily program and monitor temperature control parameters. Online modification of the controller allows users to change set point values without stopping the process control function. Three levels of keypad security enable the customer to prevent unwanted access.

Up to three alarm outputs. The 5 amp (900TC8) version supports up to three alarm outputs, which allows a single controller to address multiple temperature control applications. This reduces the need for end users to stock multiple controller versions, saving shelf space and money. An additional output can be used to drive an audible alarm or interface with an input of another controller for alarm or interlock functions. It also can be used as another on/off control output (such as a cooling function), if the application requires.

Optional programming software. The temperature controllers feature optional Allen-Bradley 900Builder(TM) software to configure and monitor the various control parameters. This software's graphic, fill-in-the-blank configuration makes programming fast and easy. Data logging and graphical trending capabilities allow users to review long-term operational trends or process abnormalities over time. This can help prevent product loss or costly equipment damage.

Rockwell Automation (NYSE: ROK) is a world-leading provider of industrial automation power, control and information solutions that help customers meet their manufacturing productivity objectives. The company brings together leading brands in industrial automation for Complete Automation solutions, including Allen-Bradley® controls and engineered services and Rockwell Software® factory management software, Dodge® mechanical power transmission products, and Reliance Electric® motors and drives. The company also is a leading provider of contact management technologies and applications that help companies more efficiently manage interaction with their own customers. Headquartered in Milwaukee, Wis., USA, the company employs approximately 23,000 people at more than 450 locations serving customers in more than 80 countries.

For more information on the Allen-Bradley Bulletin 900-TC controllers, please contact the Rockwell Automation Response Center, 10701 Hampshire Avenue South, Bloomington, Minn., 55438, 800.223.5354, Ext. 1524.


More from Mechanical Components and Assemblies