Electrical Sensors / Detectors / Transducers
Temperature Controllers has UL listing and integrated design.
Press Release Summary: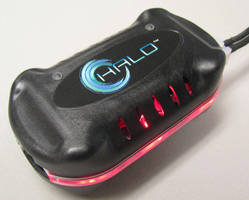 UL-Listed HALO® combines multiple sensor inputs, including process temperature, limit temperature, and current sensing, to allow monitoring of multiple heaters wired in parallel. Designed for use in remote locations that may pose limited accessibility issues for maintenance personnel, unit also offers Modbus RS-485 communications, DIO, hi/low alarm output, and ramp/soak temperature profiles. Plug-and-play operation is supported with SENTINEL® Gas and Pump Line heaters.
---
Original Press Release:

New UL Listing for HALO® Temperature Controllers



Cary,  IL  –  Durex  Industries,  a  leading  North  American  designer  and  manufacturer  of  heaters, temperature  sensors,  controls  and  thermal  systems,  recently  announced  the  UL  Listing  and  product launch of the HALO® temperature controller.



HALO  is  a  patent  pending  integrated  controller  that  reduces  thermal  system  complexity  and  cost  as compared  to  traditional  solutions.   Combined  in  one  controller  are  multiple  sensor  inputs  including process temperature, limit temperature, and current sensing that allows monitoring of multiple heaters wired  in  parallel.     Designed  to  be  used  in  remote  locations  that  may  not  be  easily  accessible  by maintenance  personnel,  HALO  includes  a  light  bar  that  provides  visual  indication  of  system  health. Other features include Modbus RS-485 communications, digital  input/output, hi/low alarm output, and ramp/soak temperature profiles.



Designed to plug and play with Durex' SENTINEL®  Gas and Pump Line heaters, HALO provides new and superior thermal performance not available in other temperature controllers.



About Durex Industries

Durex  Industries  is  a  vertically  integrated,  lean  enterprise  advancing  the  state  of  the  art  in  industrial electrical heating, temperature sensing and  control. Headquartered in a 145,000 sq. ft. manufacturing facility  in  Cary,  Illinois,  Durex  Industries  serves  the  Analytical  Instrumentation,  Medical  Device, Semiconductor, Photovoltaic, Foodservice, Plastics, Packaging, Process, and general industrial markets.



For literature, applications, pricing or more details, please contact:



DUREX INDUSTRIES, 190 Detroit Street, Cary, IL 60013-2979

Phone: 847-639-5600. Fax: 847-639-2199

Web: www.durexindustries.com. E-mail: sales@durexindustries.com. Attention: Bill Johnson

More from Electronic Components & Devices