Universal Process / Temperature Controllers
Temperature Controllers are offered in 1/32 DIN size.
Press Release Summary: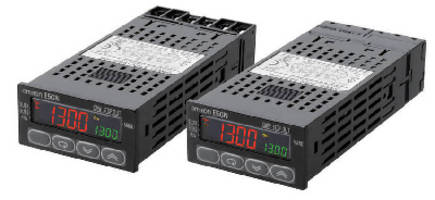 E5GN-T Series accepts universal temperature sensor inputs, while E5GN-L Series accepts analog inputs to support process control applications. Units offer indication accuracy of ±0.3% when used with thermocouples and ±0.2% for all other input types. Additional features include heater burnout alarms and event inputs, as well as provisions for 2 independent alarm outputs. Sampling period and loop update time is 250 msec.
---
Original Press Release:

Omron Upgrades Its Smallest Temperature Controllers, 1/32 DIN Size E5GN



SCHAUMBURG, IL - Increased indication accuracy and faster sampling rate are among the important enhancements that Omron has incorporated in the latest versions of its compact E5GN temperature controller. To simplify selection and stocking, each E5GN-T model accepts universal temperature sensor inputs (thermocouples and platinum RTDs), and a new series, E5GN-L, accepts analog inputs to support process control applications. Presented in 1/32 DIN (48 x 24 mm) housings, the new units are the smallest models in Omron's popular E5_N temperature controller range yet they make no compromises in versatility and ease of use.

At the heart of the new E5GN controllers is a large easy-to-read color-change display, which can optionally be configured to alternate between showing SV/PV and controller status messages, including alarms. The display can also be switched between three colors for more informative monitoring, allowing it to be used to provide an instant visual indication of an alarm condition.

The controllers are available either with universal inputs for use with Pt sensors and thermocouples, or with inputs that are compatible with standard analog current and voltage signals. The new models have an indication accuracy of ±0.3% when used with thermocouples, and ±0.2% for all other input types.

The sampling period and loop update time of the E5GN has also been halved to 250 ms, allowing them to provide a faster response to suit demanding applications. Other enhancements include the introduction of heater burnout alarms and event inputs, as well as provision for two independent alarm outputs. Screw-less clamp terminals models are offered to make wiring faster and easier.

To ensure ease of use, the new E5GN temperature controllers incorporate a parameter mask function that is accessed via Omron's CX-Thermo support software (Ver. 4.2). This function allows parameters that are not needed for a particular application to be hidden, thereby guarding against setting errors and inadvertent operation. The CX-Thermo software can also be used as an aid to convenient setting, adjustment and of course parameter cloning, creating easy and errorless copies for multiple machines. CX-Thermo software is available stand-alone (EST2-2C-MV4), or as part of Omron's CX-One integrated automation software suite.

Like a PLC's ladder, the E5GN has 8 logic registers to perform logic switching. These 8 "work bits" can be programmed to perform simple logic operations, with or without time delays, using the status of alarms or the controller's digital inputs. The result can be used to control the operation of the E5GN itself, or one of its Control or Sub outputs.

With this update of the compact 48 x 24 mm controllers, Omron's E5_N range now consists of one versatile range in four sizes. As well as the 1/32 DIN size units (E5GN), the range also offers 1/4 DIN size (E5AN 96 x 96 mm), 1/8 DIN size (E5EN 48 x 96 mm) and 1/16 DIN size (E5CN 48 x 48 mm) controllers, allowing customers to select the best model for their own specific application.

For further information, contact: Omron Electronics LLC, 1 Commerce Drive, Schaumburg, IL 60173. Tel.: 866-88-OMRON. Fax: 847-843-8081. Internet: www.omron247.com. In Canada, Tel.: 866-98-OMRON.

Omron Electronics LLC and Omron Canada, Inc. provide scalable machine automation solutions and offer a wide range of industrial control components to support customers throughout the Americas. Designed for complete automation connectivity, Omron delivers solutions that integrate programmable controllers, motion control, operator interfaces, machine vision and RFID systems using a single software package. Omron is a global leading manufacturer of industrial sensors, temperature controllers, power supplies, relays, switches and metering devices that support a complete automation solution. Omron Electronics LLC is the Americas subsidiary of Omron Corporation, a $6.3 billion diversified company with business units producing industrial automation, electronic components, healthcare equipment and ticketing systems.

More from Optics & Photonics