Universal Process / Temperature Controllers
Temperature Controller functions in 15 or 30 amp mainframe.
Press Release Summary: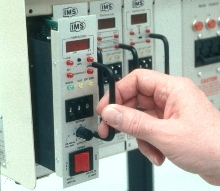 Microprocessor-based Model TM215M closed-loop module, for plastics processing, is used with Type J or Type K thermocouples. It compares measured temperature to operator's chosen setpoint, and regulates current to electric heater to maintain temperature at setpoint. Digital display shows controlled temperature (in deg F or C) or output amperage. Soft Start mode runs heater at 25% of full power for 5 min to gradually bake out moisture in cold heater.
---
Original Press Release:
IMS Introduces Improved Closed-Loop Temperature Control Module

CHAGRIN FALLS, OH, May 16, 2002-IMS Company upgraded its line of
temperature controllers with the Model TM215M Closed-Loop Temperature Control Module, replacing the Model TM315DA. The new, microprocessor-based TM215M is designed for use with either Type J or Type K thermocouples. It compares the measured temperature to the operator's chosen setpoint, and regulates current to the electric heater to maintain the processing temperature at this setpoint. The new, 15 amp modules are designed to function in either 15 or 30 amp mainframes. Applications in the plastic processing industry include temperature control of mold and hot-runner heaters, barrel and nozzle heater bands, and cartridge heaters.

The front panel offers a variety of features to ease operation (see photo). The digital display shows the controlled temperature (°F or °C) or alternatively shows output amperage when the operator presses a panel button. The operator selects the setpoint via a mechanical digital display and pushbutton. Indicators on the panel include: Low/High temperature, T/C reversed or open, Power On, Load (heater on) and Manual or Soft Start modes. The Soft Start mode runs the heater at 25% of full power for about five minutes to gradually bake out moisture within a cold heater. In Manual mode the operator controls output current directly via the front panel.

The Model TM215M module can be used in IMS housings that accommodate one, two, five, eight, or twelve modules or any "G" Series mainframe. For more information about the Model TM215M Closed-loop Temperature Control Module, contact the IMS Customer Service Department at 1-800-537-5375.

About IMS Company

IMS Company, headquartered in Chagrin Falls, OH, has over 50 years experience in providing accessory equipment and supplies for the plastics processing industry. The company specializes in helping customers find innovative solutions to all types of plastic processing problems. In addition to providing molding
products and equipment refurbishing services, IMS offers experienced engineering and technical support.

http://www.imscompany.com/
More from Computer Hardware & Peripherals