Temperature-Compensated Timing IC tolerates harsh environments.
Press Release Summary: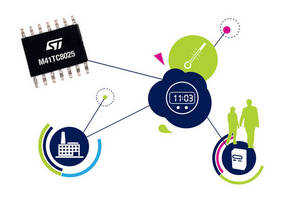 Typically drawing 0.8 µA at 3.0 V supply voltage, Model M41TC8025 real-time clock features temperature compensation that guarantees accuracy to within 2.5 min/yr over specified range of -40 to +85°C. Integrating temperature-compensated 32,768 Hz crystal oscillator, unit generates date/time information in seconds, minutes, hours, day-of-week, date, month, and year for applications such as utility meters. Fixed-cycle timer, programmable frequency outputs, and 400 kHz I
2
C interface are included.
---
Original Press Release:

STMicroelectronics Reveals Class-Leading High-Stability Real-Time Clock for Smart Utility Meters and Precision Applications



Temperature-compensated timing IC with lowest power consumption and superior corrosion resistance delivers best performance in all environments



Geneva – STMicroelectronics (NYSE: STM), a global semiconductor leader serving customers across the spectrum of electronics applications, has achieved record low power consumption in a highly accurate temperature-compensated real-time clock chip for utility meters and other equipment including medical devices and industrial systems that require stable, precision timing.



Typically drawing only 0.8 µA with temperature compensation fully operational, the M41TC8025 single-chip real-time clock has lower power consumption than any alternative device. This helps reduce operating costs for electronic utility meters and can extend the lifetime of battery-powered equipment. Temperature compensation guarantees accuracy to within 2.5 minutes per year (±5 ppm) over the entire specified temperature range from -40 to +85°C. In metering applications, this allows precise time stamping and tariff switching across seasons and in various climates.



Tests with a lead customer have revealed another advantage of the M41TC8025; superior corrosion resistance. The customer, a producer of electronic utility meters for use outdoors in harsh environments such as coastal regions, performed corrosion testing and found that ST's new single-chip real-time clock outperforms functionally equivalent devices, owing to its high-quality package design and materials.



The M41TC8025 generates accurate date and time information in seconds, minutes, hours, day-of-week, date (day of month), month and year, and helps simplify system design by providing extra integrated functions including an alarm, fixed-cycle timer, time-update interrupt, and programmable frequency outputs. The device integrates a temperature-compensated 32768 Hz crystal oscillator as precision timing reference, which helps minimize component count and simplify system hardware design.



Major features of M41TC8025:

• 0.8 µA typical current at 3.0V supply voltage

• Guaranteed accuracy over temperature:

• ±5.0 ppm max from -40 to 85°C (c. 2.5 minutes per year)

• ±3.8 ppm max from 0 to 50°C (better than 2 minutes per year)

• Embedded high-stability 32 KHz temperature-compensated crystal oscillator

• Time-of-day alarm (with interrupt)

• Fixed-cycle timer-interrupt function

• Time-update interrupt function

• Programmable frequency output (1 Hz, 1024 Hz and 32768 Hz)

• 400kHz I2C interface



The M41TC8025 is sampling now to lead customers, in the SO-14 surface-mount package, priced from $2.80 in quantities over 1,000 pieces. Alternative pricing options for higher quantities are available on request. Mass production begins in November 2012.



About STMicroelectronics

ST is a global leader in the semiconductor market serving customers across the spectrum of sense and power technologies and multimedia convergence applications. From energy management and savings to trust and data security, from healthcare and wellness to smart consumer devices, in the home, car and office, at work and at play, ST is found everywhere microelectronics make a positive and innovative contribution to people's life. By getting more from technology to get more from life, ST stands for life.augmented.



In 2011, the Company's net revenues were $9.73 billion. Further information on ST can be found at www.st.com.



For Press Information Contact:

STMicroelectronics

Michael Markowitz

Director Technical Media Relations

+1 781 591 0354

michael.markowitz@st.com

Related