Temperature and Velocity Scanner controls up to 32 sensors.
Press Release Summary: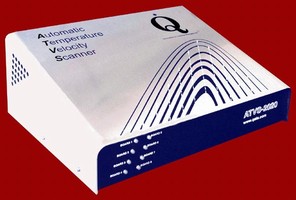 Featuring low-profile, flexible sensors for minimal disturbance of airflow fields, ATVS-2020(TM) measures heat and air speed for thermally characterizing electronic devices. Portable system hooks up to any PC for operation, measuring temperature from -30 to +150°C and velocity from 0-10,000 fpm. While one sensor can be used to measure both temperature and air velocity, system accommodates up to 32 sensors for multi-point field mapping of test domains.
---
Original Press Release:

Temperature and Velocity Scanner Controls up to 32 Sensors



Norwood, MA, May 4, 2006 - Advanced Thermal Solutions has introduced the ATVS-2020(TM) temperature and velocity scanner to measure heat and air speeds for thermally characterizing electronic devices. The ATVS-2020 scanner features low profile, flexible sensors for minimal disturbance of airflow fields. A single sensor can be used to measure both temperature and air velocity, and the system can accommodate up to 32 sensors for precise multi-point field mapping of test domains.

The ATVS-2020 scanner hooks up to any PC for operation. It is controlled by easy-to-use StageVIEW (TM) software which acquires data and generates reports. Measurement periods are limited only by the PC's storage capacity, and data can be automatically averaged for fast, research-quality testing results.

All sensors are calibrated for both low (natural convection) and high velocity flow rates. The temperature measurement capability spans from -30 to 150°C. Velocity measurements range from 0 to 51 m/s (10,000 ft/min).

The complete portable system weighs 10 lbs. Starting price for a standard ATVS-2020 automatic temperature and velocity scanner with 8 sensors is $4700. Customized features and special-purpose sensors are available from ATS.

More information on ATVS-2020 scanner is available from the Advanced Thermal Solutions website, www.qats.com, or by calling 781-769-2800.

Advanced Thermal Solutions is a leading engineering and manufacturing company supplying complete thermal and mechanical packaging solutions from analysis and testing to final production. ATS provides a wide range of heat sinks and laboratory-quality thermal instrumentation, along with thermal design consulting services and training.

For technical information, please contact:
Sales
Advanced Thermal Solutions, Inc.
89-27 Access Road
Norwood, MA 02062 USA
Tel: 781-769-2800
www.qats.com

Please send inquiries to:
Norman Quesnel
Marketing Communications Specialist
Advanced Thermal Solutions, Inc.
89-27 Access Road
Norwood, MA 02062 USA
Tel: 781-769-2800
E-mail: nquesnel@qats.com

Related