Temperature and RH Datalogger integrates Bluetooth connectivity.
Press Release Summary: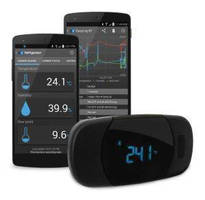 Powered by rechargeable lithium ion battery or used with USB wall charger, portable Lascar EL-BT-2 measures temperature from -4 to +140°F and humidity from 0%–100% RH and stores up to 500,000 readings in internal memory. LCD screen shows Bluetooth® connection status as well as logger operation, while pushbutton operation let users cycle through Current, Min, and Max recorded values. Using complementary Android app, users can also setup and download data.
---
Original Press Release:

Lascar Introduces New Bluetooth Temp & RH Datalogger



All the Convenience of Bluetooth at a Low Cost!



CHESTERLAND, OH—Lascar has teamed with distributor CAS DataLoggers to introduce the latest electronic innovation in environmental measurement! The new Lascar EL-BT-2 Bluetooth Wireless Temperature and Humidity Datalogger measures and stores temperature and humidity readings on its large internal memory. The portable device's LCD screen shows Bluetooth connection status as well as logger operation. Simple push-button operation allows users to quickly cycle among current, minimum and maximum recorded values. The EL-BT-2 comes with a rechargeable battery and can also be used with a USB wall charger. Save time collecting data with Bluetooth—call CAS DataLoggers at (800) 956-4437!



Product Overview:

• Measure from -20 to +60°C (-4 to +140°F) and 0 to 100% RH

• Setup and download data using Lascar's free Android app

• View data on your Android device or export to EasyLog Graph for Windows

• Store up to 500,000 temperature and humidity readings

• LCD screen shows the current, minimum and maximum readings and status indication

• Rechargeable lithium ion battery



New Android App:

The convenient EasyLog BT app for Android™ is now available on Google Play™ and allows you to manage your EL-BT-2 logger with ease. It's easy to:

• Quickly configure your EL-BT-2

• Download recorded data and view it on your device

• Animated walkthrough of the setup process

• Export the logger's information via email or other cloud services



Within the app you can set the sample rate, temperature scale, temperature and humidity alarms, Bluetooth power-save settings, LCD settings, and variable start times. All downloaded data will be saved to your phone's memory card and can be viewed at any time. For further analysis you can then send the data via email or your preferred cloud service to another device or to a Windows PC.



The EL-BT-2 is suitable for a wide variety of applications including:

• Pharmaceutical fridge monitoring

• Environmental and weather monitoring

• Food & drink

• Agricultural and livestock

• Building & site monitoring

• HVAC



Graphing & Export Options:

With the EL-BT-2, users can view logged temperature, humidity readings and calculated dew point, minimum and maximum values, and alarm breaches. Lascar's zooming and panning features allow you to view critical data with ease.



The Data Logging Experts:

CAS DataLoggers is a major distributor of data loggers, data acquisition equipment and paperless chart recorders. We sell directly to end users and also maintain a network of distributors and resellers throughout America.



We have the most comprehensive selection of data logging equipment available anywhere. At CAS DataLoggers we offer hundreds of different models from over 16 manufacturers to satisfy data recording applications in every industry.



Yes, We've Worked with Your Application!



Every day our Applications Specialists provide data loggers for projects in all scopes and fields. Using archival and documentation capabilities, data loggers enable you to prove regulatory compliance regarding product quality, vaccine monitoring, energy audits, and electronic documentation standards.



CAS DataLoggers systems have been installed in Gold Seal-accredited hospitals and clinics, major manufacturing and automotive plants, universities, and more. Give us a call today at (800) 956-4437!



For more info on the new Lascar EL-BT-2 Bluetooth Wireless Temperature and Humidity Datalogger or to find the ideal solution for your application-specific needs, contact a CAS Data Logger Applications Specialist at (800) 956-4437 or visit our website at www.DataLoggerInc.com.



Contact Information:

CAS DataLoggers, Inc.

8437 Mayfield Rd.

Chesterland, Ohio 44026

(440) 729-2570

(800) 956-4437

sales@dataloggerinc.com

www.dataloggerinc.com

More from Software