Temperature and Process Controller provides trend charts.
Press Release Summary: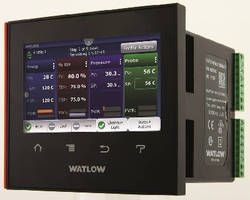 Featuring 4.3 in. capacitive color touch panel, ¼ DIN F4T with INTUITION® v3.0 is available with encrypted data log records to help meet industry requirements such as Nadcap, AMS 2750E, and CRF 21 Part 11. Users can log directly to USB memory stick, transfer data log files over Ethernet or to USB host ports, and select which parameters to log. With graphical trending functionality, users can create up to 4 trend screens and scroll through matching color legend of parameters on trend chart.
---
Original Press Release:

Watlow® Introduces its F4T 3.0 with Advanced Data Logging and Trend Charts



Watlow®, an industry leader in the design and manufacture of complete thermal systems, recently released its F4T with INTUITION® version 3.0, a temperature and process controller now with enhanced capabilities including advanced data logging and graphical trend charts.



Watlow's F4T version 3.0 is available with encrypted data log records to help meet industry requirements such as Nadcap (National Aerospace and Defense Contractors Accreditation Program), AMS 2750E and CRF 21 Part 11. Other benefits of the data logging feature include the ability to log directly to a USB memory stick, transfer data log files over Ethernet or to the USB host ports and select which parameters to data log.



Version 3.0 also releases the graphical trending functionality. Users can create up to four trend screens and they have the ability to scroll through a matching color legend of parameters on the trend chart. There is also a snapshot screen capture feature. The trend chart image can be saved to a USB host port location for viewing, emailing or printing options.



The F4T is Watlow's ¼ DIN temperature process controller with touch-screen technology that delivers industry-leading functionality, providing users with a powerful, flexible and easy to use device in one versatile package. It features a 4.3-inch, capacitive color touch panel with high resolution and graphical user interface that provides customized control for demanding applications.



"Although we introduced the F4T in May 2015, we continue to test and make enhancements," said Craig Dennis, product manager. "Our goal is to provide the most powerful, best performing controller solution on the market that will solve a variety of applications needs for our customers."



Information on the F4T, including tutorials on version 3.0, can be found at f4t.watlow.com.



About Watlow

Watlow provides best in class engineering expertise and leading thermal products that enable customers to thrive.



Watlow brings its experience to numerous industries, including semiconductor processing, environmental chambers, energy processes, diesel emissions, medical and foodservice equipment.



Since 1922, Watlow has grown in product capability, market experience and global reach. The company holds more than 450 patents and employs 2,000 employees working in nine manufacturing facilities and three technology centers in the United States, Mexico, Europe and Asia. Watlow also has sales offices in 16 countries around the world. The company continues to grow, while the commitment remains the same – to provide its customers with superior products and services for their individual needs.



For additional information call your nearest Watlow representative:

Watlow

Phone: 1+ (800) WATLOW2, 1+ (314) 878-4600

Fax: 1+ (877) 893-1005, 1+ (314) 878-6814