Universal Process / Temperature Controllers
Temperature and Process Controller features 2 PID sets.
Press Release Summary: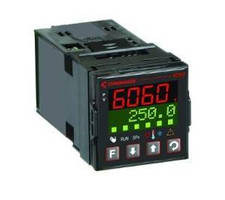 Offering heat/cool operation, soft start function, and self-tuning startup, Model 6060 is suitable for industrial ovens and furnaces, boiler and steam processes, heat treatment, chiller and refrigeration systems, and laboratory/test equipment. Universal and optional input plus 4 digital inputs combined with 6 outputs provide extensive I/O flexibility. Available with Modbus/RTU RS485 communications, 1/16 DIN single loop controller supports 16 operational profiles, each having 16 segments.
---
Original Press Release:

Chromalox Unveils Compact 1/16 DIN Profiling Controller with Advanced Functionality



Chromalox 6060 controller comes packed with features and flexibility for a variety of simple and complex applications



PITTSBURGH -- Chromalox, a leader in advanced thermal technologies, today announced the availability of a sophisticated 1/16 DIN single loop temperature and process controller. The Chromalox model 6060 controller offers such features as two PID sets, multiple inputs and outputs, heat/cool operation, soft start function, self-tuning startup, and optional Modbus/RTU RS485 communications.



The two PID sets ensure reliable control over a wide set-point range. Separate PIDs for heat and cool strategies optimize control and stability. A universal and an optional input plus four digital inputs combined with six outputs provide extensive I/O flexibility. Additionally, 16 operational profiles are possible, each having 16 segments.



Typical applications include:



--  Industrial Ovens and Furnaces

--  Boiler and Steam Processes

--  Heat Treatment

--  Plastics, Extrusion, and Rubber

--  Packaging

--  Chiller and Refrigeration Systems

--  Laboratory and Test Equipment

--  Food and Beverage



Scott Treser, Director of Controls and Panel Development for Chromalox, says that available configuration software simplifies and hastens setup of the 6060 controller. "With this software," he says, "users can not only configure control parameters, but they can also simulate control operations to test settings before applying them." He notes that the 6060 controller offers two and three point temperature control which facilitates: on/off, heat only, heat/cool, and valve motor drive (VMD) control schemes.



Treser adds that the 6060 controller incorporates several functions for special situations. "One example," he says, "is a function with both a startup set point and a main set point for slow heat ups. A boost function increases heat for limited durations, such as at startup or cyclically. A Modbus master function permits the controller to supervise other connected controllers acting as slaves."



For more information, visit www.chromalox.com



About Chromalox

Around the world, Chromalox is known for advanced thermal technologies engineered for the world's toughest industrial heating applications. We partner with our customers to find elegant solutions to the most difficult and unique heating challenges.  Our Heat Trace segment delivers temperature management solutions for piping systems, valves and tanks. Our Industrial Heaters and Systems segment delivers process heating solutions for revenue-generating industrial processes, and our Component Technologies segment delivers component heating solutions for industrial equipment manufacturers.  Drawing upon a century of experience, a global footprint, and the most comprehensive set of technologies in our industry, no thermal control project is too large or complex. Founded in 1917, Chromalox is headquartered in Pittsburgh, PA.



CONTACT:

Barbara Lee

Chromalox Inc.

412-967-3800

barbara.lee@chromalox.com

More from Agricultural & Farming Products