Telos Introduces Axia iQx AoIP Broadcast Console That Can be Controlled Remotely
Press Release Summary: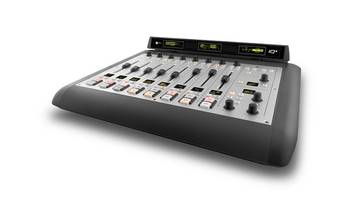 The Axia iQx AoIP Broadcast Console is embedded with a control surface and mix engine that provides access to AES67-compliant networked source and device. The units allow broadcasters to add studios by piggybanking off the existing network resources. The consoles are suitable for applications such as permanent and temporary studios and remote operations.
---
Original Press Release:
The Telos Alliance Debuts Breakthrough iQx AoIP Console at the Paris Salon de la Radio Conference
Uniquely Combines a Control Surface and Mix Engine in a Single Cost-Effective Unit
Cleveland, OH (January 24, 2019) – The Telos Alliance is publicly debuting the new Axia iQx AoIP Broadcast Console at the Salon de la Radio Conference in Paris, France, at stand A12, where the company will be exhibiting with Livewire® partner ip-studio. This breakthrough console uniquely combines a control surface and mix engine into a single compact, cost-efficient unit, providing fast and easy access to every AES67-compliant networked source and device.
"Our new Axia iQx AoIP Consoles provide broadcasters with a new level of versatility and cost-efficiency, while maintaining uncompromised audio quality," said Marty Sacks, VP of Sales, Support, & Marketing, Telos Alliance. "Axia iQx suddenly opens up the world of AoIP and Axia capabilities to more people by utilizing existing network resources and eliminating the cost of an outboard mix engine. This really is a game changer."
By combining the mix engine and surface into a single desktop unit configuration, Axia iQx AoIP Consoles dramatically reduce equipment and installation costs and streamline studio design. The AES67-compliant consoles fully support emerging standards including SMPTE 2110-30 and can access any audio AoIP source, anywhere on the network, from anywhere in the world. By piggybacking off existing network resources, including Axia iQ Consoles, Axia QOR engines, as well as microphones, headphones, or any other audio source using Telos Alliance xNodes, broadcasters can easily add new studios with great savings. And since Axia iQx AoIP Consoles can be controlled from the remote site, they eliminate the need for an in-studio operator. This makes them ideal for a wide range of applications including permanent and temporary studios, remote operations, and more.
Telos Alliance Kantar Watermarking Applications at Salon de la Radio
Additional highlights from the Telos Alliance at Salon de la Radio include a demonstration of audio processing and Kantar Watermarking (a technology specific to the French market) in real time using Omnia.9, Omnia VOLT, and Telos Z/IPStream software, along with Minnetonka audio file processing and Kantar File watermarking (for applications like podcasting) shown with Minnetonka AudioTools Server.
The Telos Alliance HyperStudio Experience
Telos Alliance's HyperStudio Experience is a window into the future of broadcast technology, showcasing what could become the basis for studios moving forward. The virtualization demonstration will feature the Axia IP-Tablet controlling the Axia Fusion Console and Axia QOR engine, as well as Telos Alliance virtual machines (VMs) running in a hypervisor environment, including Axia Pathfinder Core PRO, Telos Z/IPStream 9X/2, Axia IP Driver, and Axia IP-Tablet Virtual Radio Software.
For more information, join The Telos Alliance at Salon de la Radio Conference at stand A12, or visit www.TelosAlliance.com.
About The Telos Alliance
For three decades, the brands of the Telos Alliance have revolutionized radio and television by pioneering disruptive, cutting-edge audio technology with the goal of helping global networks and local stations produce better programming, improve audience engagement, and bolster ratings. The Telos Alliance is made up of six brands—Telos® Systems, Omnia® Audio, Axia® Audio, Linear Acoustic®, 25-Seven® Systems, and Minnetonka™ Audio—that raise the bar for quality and innovation in the radio and television industries. The Telos Alliance invented Audio over IP for broadcast and contributed time and resources to the effort that led to the AES67 standard. Headquartered in Cleveland, Ohio, USA, with additional offices and dealers around the world, the Telos Alliance offers an industry-leading warranty and backs users' critical on-air needs with worldwide 24/7 round-the-clock support for all customers.
Related