Telewave 44D Digital Wattmeter features 30 MHz up to 1 GHz frequency range.
Press Release Summary: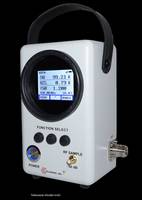 Telewave Model 44D Digital Wattmeter can measure OFDM, AIS, FM, and AM, analog and digital modulations. The unit comes with USB port, bi-directional sampling port for frequency measurement, signal injection, or spectral analysis. Wattmeter is suitable for mobile radio installation in aircraft or vehicles and base stations and is mounted in rugged, diecast housing. Unit provides various calculated values such as average power, VSWR and return loss.
---
Original Press Release:
Telewave Introduces New Digital Wattmeter
Telewave Inc., a leading provider of premium quality domestic and international radio and wireless systems equipment, announces a new, highly accurate, versatile digital wattmeter.
Available now for pre-orders, the Telewave Model 44D digital wattmeter provides analog and digital modulated RF power measurement accuracy of 3% or better. In addition, the 44D provides a variety of calculated values including average power, VSWR, and Return Loss using the same rugged durability of its predecessor, the analog Model 44A wattmeter.
This wattmeter is a compact, versatile instrument used for digital measurement of forward and reflected RF power in a coaxial transmission line under any load conditions. Power measurements are displayed on a bright, back lit screen that's easy to read in a variety of environments and light levels. The Model 44D simultaneously calculates and displays the average and peak measurements and allows direct measurements of nonlinear parameters such as crest factor, eliminating the need for manual calculations or external correction tables. It can measure both digital and analog modulations, including RF modulation schemes such LTE, P25 (phase 1 & phase 2), OFDM, AIS, FM, and AM.
Wide band capability and dynamic range of the included sensors handle the full listed power and frequency ranges, from 30 MHz up to 1 GHz. There's no need for external elements or slugs, making Telewave's digital wattmeter both simple to operate and cost-effective.
The Model 44D digital wattmeter includes a bi-directional RF sampling port, with an output 50 dB below the total transmission line level, for frequency measurement, signal injection, or spectral analysis. There is also a USB port for connection to an external screen for remote monitoring or to other types of devices for applications like downloading and storing data or additional processing or charting. The Model 44D can connect to remote devices through the integrated WiFi capability.
Like other Telewave wattmeters, the Model 44D (IP54 rated) is mounted in a rugged, diecast housing, making this instrument ideal for mobile radio installation in aircraft or vehicles, as well as base stations. The rechargeable batteries will last up to 8 hours on a full charge, particularly important when used in remote locations.
To request a demo, place a pre-order for the Model 44D digital wattmeter, or to learn more about Telewave's full line of wattmeters and other products, contact your sales representative or call us toll-free at 1-800-331-3396.
About Telewave:
Telewave designs and manufactures high quality RF system products. It serves wireless system operators, public safety providers, local and state governments, and federal agencies in the United States and internationally. The company was founded in 1972 and is based in San Jose, California. Telewave strives to be the premier supplier of seamless interoperable communication systems that provide security and reliability in mission critical eco-systems for both commercial and military applications worldwide. Telewave products are used by more than 7,500 equipment and network manufacturers and government agencies throughout the world.
More from Electronic Components & Devices