Telescoping LED Light Pole is offered with spot or flood beam.
Press Release Summary: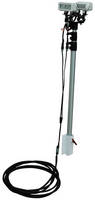 Able to operate with voltages from 9-32 Vdc, TPM-2XLEDP3W-3 provides illumination source for boats, trailers, and mobile applications. Adjustable, surface-mount LED lighting tower can extend up to 12 ft high for use and collapse to 3 ft for travel. Attached to vertical surfaces via included mounting plate, pole is fitted with 2 IP68-rated and independently adjustable Magnalight LEDP3W-3 LED lights that produce 1,368 lm in total while drawing 1.6 A and 18 W from 12 V electrical system.
---
Original Press Release:
Larson Electronics' Magnalight.com Announces Addition of Adjustable Surface Mount LED Light Pole
Larson Electronics' Magnalight.com announced today the addition of the TPM-2XLEDP3W-3 adjustable surface mount LED light pole to its line of high power LED lighting towers. Designed to provide a highly convenient source of illumination for boats, trailers and mobile applications, this telescoping light pole produces over 1,000 lumens, extends lights up to 12 feet in height, and can be collapsed to three feet for travel. The TPM-2XLEDP3W-3 telescoping light pole is a powerful LED lighting system from Magnalight.com designed to be mounted to vertical surfaces such as trailer walls or boat cockpits using an included mounting plate with four predrilled mounting holes. This versatile LED mini light tower is mounted by attaching the mounting plate to a flat surface and then slipping the pole into the bracket and locking it into place. Once mounted the aluminum pole can be extended to twelve feet to elevate the lights, which reduces casting and glare provides more coverage of large areas. This durable telescoping light tower is fitted with two of Magnalight LEDP3W-3 LED lights which produce a total of 1,368 lumens of intense light output while drawing only 1.6 amps and 18 watts from a 12 volt electrical system. The rugged LED lamps are IP68 rated waterproof for use in wet locations, making them ideal for use as boat lighting , and can be adjusted independently of each other for effective wide area illumination. This light system is multi-voltage capable and can be operated with voltages ranging from 9 to 32 volts DC, making it ideal for use with vehicles and boats where 12 and 24 volt DC electrical power is standard. The LED lamps are IP68 rated waterproof, have a 50,000 hour rated service life, and are highly resistant to damage from shocks and vibrations. Magnalight offers these lights in spot beam or flood beam configuration so users can better tailor the system to their needs, and offers a choice of white or black lamp housings so users can better match the lamps to their existing equipment. As an added safety feature, the heavy duty adjustable pole is fitted with a pneumatic braking system. If by some accident or user error the extended tower's locking mechanism is released, the tower will lower slowly and gently rather than suddenly. This feature protects users and the lamps from potential damage that could occur with a sudden pole collapse. The collapsible pole design and low power requirements of the LED lamps make this an ideal lighting system for use on boats and trailers where the convenience of easily deployed and stowed high power lighting is desired but power supplies are limited. Operators can simply park their trailer or anchor their boat in their desired locations and extend the lights and lock them into position for fast and effective wide area illumination. Once finished with their use, the operator simply lowers the mast and locks it into place and the system is ready for travel. "Fabricated for portable operations, the TPM-2XLEDP3W-3 light pole is designed with a collapsible pole design for effortless deployment while also featuring a locking mechanism to prevent unforeseen downfalls," said Rob Bresnahan with Larson Electronics Magnalight.com. "The nice thing about this pole is that it has a pneumatic braking system that keeps the top load from crashing down. If the operator releases the pole, it will ease down, not crash down, improving safety, etc." Larson Electronics' Magnalight produces a wide range of LED boat lights, LED work lights, LED light towers, LED floodlights and LED equipment lights. The entire line of Magnalight lighting products can be viewed by visiting Magnalight.com or you can call 1-800-369-6671 to learn more about custom ordering options. For international inquires call 1-214-616-6180 for more details.
More from Machinery & Machining Tools