Telescopic Loader features max capacity of 8,800 lb.
Press Release Summary: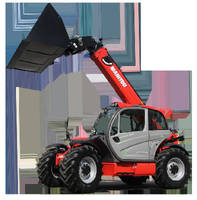 Powered by 137 hp Tier IV-certified John Deere diesel engine, MLT 1040 Agriculture/Multi-purpose Telescopic Loader excels in livestock feeding, manure scraping, harvesting, and loading/unloading applications. Machine features max lift height of 31 ft 6 in., max reach of 21 ft 6 in., and max travel speed of 25.5 mph. M-Shift® Gearbox provides smooth gear changes with minimum torque interruption, while Comfort Ride Control boom suspension system minimizes loss of material when traveling.
---
Original Press Release:

All-New Manitou MLT 1040 Agriculture/ Multi-Purpose Telescopic Loader Offered to North American Market



TECHNICAL SPECIFICATIONS

MLT 1040

Maximum Lift Capacity (kg) 8,800 lbs. (4000)

Maximum Lift Height (m) 31'6" (9.60)

Capacity at Maximum Lift Height (kg) 5,500 lbs. (2500)

Turning Radius (m) 12'3" (3.74)

Power (kW) 137 hp (102)

Transmission Type Powershift

Maximum Travel Speed (km/hr) 25.5 mph (41)



FEATURES

Manitou, world leader in all-terrain material handling, is pleased to introduce the all-new MLT 1040 agriculture/multi-purpose telescopic loader to the North American market. With a maximum capacity of 8,800 lbs. (4000 kg) and a maximum lift height of 31'6" (9.60 m), this machine has the highest lift height and longest maximum reach, 21'6" (6.55 m), of the current Manitou MLT agricultural telescopic loader line. Designed for Agriculture, the MLT product line excels in livestock feeding, manure scraping, harvesting and loading/unloading applications. Powered by a 137 hp (102 kW) Tier IV-certified, John Deere diesel engine, the MLT 1040 is fully-loaded with the right power and torque to complete large jobs.



The M-Shift® Gearbox (Powershift) provides smooth gear changes in all situations with minimum torque interruption. The operator is in charge, choosing from automatic or manual mode. In Automatic Mode, the gearshift program adapts to the application, determining the optimal gear for operation. In Manual Mode, the operator chooses the gear by selecting buttons on the Joystick Switch and Move (JSM) control. The torque converter lock-up function provides over 13.3 mph (23 km/hr) in fourth gear and 23.6 mph (38 km/hr) in fifth gear. This lock-up system improves efficiency, increases tractive effort and reduces fuel consumption.



The all-new MLT 1040 is designed with a patented three section full-power boom, creating a more compact structure with no need for chains. Thin-walled, high quality steel results in a stronger overall design with exceptional loading capabilities. A reduction in overall weight of the internal components increases lifting capacities with a minimal increase in machine size.



Comfort is standard for operators spending much of their day in the cab of a machine. The MLT 1040 features a fully enclosed cab with heat, defrost and air conditioning, and a deluxe, adjustable suspension seat. For greater operator efficiency, switches and controls are grouped according to function. Drive, boom and hydraulic functions are all controlled by the Joystick Switch and Move (JSM) control, leaving the other hand free to operate the steering wheel. A highly-visible dashboard displays the hour meter, speed, travel direction, engine temperature and maintenance reminders. Maximize the operator experience with sound levels as low as 76 dB inside the cab.



The MLT 1040 agriculture/multi-purpose telescopic loader's true value comes in its versatility. The hydraulic locking system and easy connect system provide fast attachment changes without leaving the operator's seat. Auxiliary hydraulics are also standard, offering up to 47.6 gpm (180 L/min) of flow to power even the most demanding attachments. A wide variety of approved attachments include buckets, grapples, forks, carriages, bale handlers, hay handlers and more.



Smooth operation when lowering and extending the boom is made possible by cushioned stops on the lift cylinders. This all-new MLT 1040 comes with Comfort Ride Control (CRC) boom suspension system minimizes the loss of material when traveling. Plus the MLT 1040 is the only MLT machine offered in North America with frame leveling, plus or minus 7 degrees, to perform with ease on uneven surfaces.



Extra attention was paid to serviceability for the MLT 1040 telescopic loader. A large engine cover is hinged and equipped with gas springs to assist in the lifting and holding in place during servicing. Batteries and other daily maintenance points are easily accessible through the large engine cover. Like the other models in the MLT Series line, the auto-reversing fan is standard for the MLT 1040, to keep the engine free of debris during operation, reducing the chance of overheating. Centralized grease fittings make regular axle lubrication easy.



APPLICATIONS

The Manitou MLT 1040 Telescopic Loader is positioned in the North American market to meet the needs of agricultural customers and loading/unloading applications. With over 28 years of building telescopic loaders for the agricultural market, the Manitou MLT Series offers the reliability and durability equipment owners expect. The tires, transmission, cooling system and boom have been logically chosen and assembled specifically for the demands of the agricultural market.



INTERVIEW

"Adding the all-new MLT 1040 to our MLT line-up, will offer a higher maximum lift height and longer forward reach to those looking for an increased working range," says Steve Kiskunas, Product Manager for Manitou Telescopic Handlers. "The MLT 1040 is built similar to the MLT 840-137 horsepower, however this machine features a 3-Section full power boom, and is the only MLT machine offered with frame leveling plus or minus 7 degrees."



Additional product information is available at www.manitou.com

Corporate information is available at: www.manitou-group.com

Press information: marketing.americas@manitou-group.com  Phone: 262-334-9461

Shareholder information: communication.financiere@manitou-group.com



MANITOU Group, world leader in all-terrain material handling, designs, manufactures, distributes and services equipment for Construction, Agriculture, and the Industries. Its product range consists of; telescopic handlers, all-terrain, skid steers, track loaders, articulated loaders, semi-industrial and industrial masted forklifts, access platforms, truck-mounted forklifts, and attachments. Through its core brands, MANITOU, GEHL, and MUSTANG, the Manitou Group offers more than 400 models throughout the world, with an international network of 1,400 independent dealers, providing the best solutions to deliver the highest value for its customers. Headquartered in France, the group registered a revenue of €1.2 billion in 140 countries in 2013, and employs 3,300 people all committed to satisfying customers.

More from Electrical Equipment & Systems