Telemetry System monitors status of firefighters.
Press Release Summary: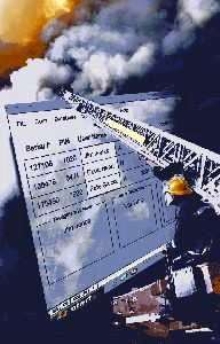 ISI TEAMS Telemetry Electronic Air Management System individually and simultaneously monitors vital data of every firefighter at scene, providing incident commanders with real-time information on PASS status, ambient temperature, cylinder air, and time in fire. Self-monitoring system recognizes situations that need attention and automatically sounds 90 db alarm. Commanders can monitor status of up to 32 firefighters by name using chart on laptop computer screen.
---
Original Press Release:
ISI Introduces New Telemetry System That Monitors

ATLANTA -July 6, 2005 --- International Safety Instruments (ISI), a leading producer of technologically advanced respiratory protection equipment for firefighters, has introduced ISI TEAMS, a telemetry system that individually and simultaneously monitors vital data of every firefighter at the scene, providing incident commanders with real-time information on PASS status, ambient temperature, cylinder air and time in fire.

ISI TEAMS (Telemetry Electronic Air Management System) is a significant improvement over traditional PASS telemetry systems that transmit limited information, primarily to alert others to distress situations. It also saves time and more accurately tracks firefighters on site by replacing older systems where each self-contained breathing apparatus (SCBA) is manually matched to a tag or card as it is issued. The new system integrates with the popular ISI Viking DXL, a technologically advanced SCBA known for its high-performance features and reliability.

"The moment a firefighter activates an SCBA, ISI TEAMS is instantly on and streaming an array of vital information to the command center," said Ernie Younkins, SCBA Product Manager. "The incident commander is able to monitor the individual status of up to 32 firefighters, by name, using an easy-to-read chart on a laptop computer screen."

An important feature of the system is the ease with which individual or multiple firefighters can be recalled by the incident commander when fire scene hazards require it. The command center sends a message activating an audible alarm on the individual's SCBA console and flashes the light indicators in the heads-up display (HUD) of the mask. The firefighter then acknowledges the message with a touch of a button. "If there is no response, the commander knows immediately that the individual may need help," Younkins said.

The system is largely self-monitoring, recognizing situations that need attention and automatically sounding a 90-decibel alarm to alert the incident commander. A graphic box simultaneously appears on the computer screen, displaying the firefighter's name and the reason for the alarm.

ISI TEAMS also features a database that stores critical information on every firefighter, including duty station, personal contact numbers and medical history - potentially lifesaving data if emergency medical attention is needed.

The TEAMS equipment carries its own power supply, separate from that of the firefighter's SCBA. Even in low battery mode, it can continue to transmit vital information for up to two hours.

For more information on ISI TEAMS, call ISI toll-free at 888-ISI-SAFE (474-7233) or visit www.intsafety.com.

ISI is a manufacturer of quality respiratory protection equipment and thermal imaging systems that offer advanced, time-saving technology to firefighting, law enforcement and industrial users. The company provides training, service and repair for all of its products.

ISI is part of Avon Protection Systems, a division of Avon Rubber plc. Headquartered in the United Kingdom, Avon manufactures the world's leading FM12 CBRN air purifying respirator. In 2006, it will begin providing a new Joint Service General Purpose Mask to all four branches of the United States armed forces. More information is available at www.avon-rubber.com.

CONTACT:

Ernie Younkins

888-474-7233

ernie@intsafety.com
More from Adhesives & Sealants