Telemetry System measures torque in real-time.
Press Release Summary: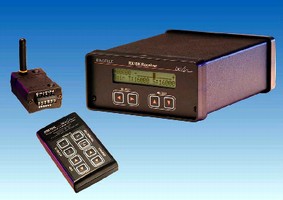 By mounting transmitter, battery, and torque-sensitive strain gage to shaft, TorqueTrak 10K converts virtually any drive shaft into rotating torque sensor. Infrared remote control can adjust transmitter gain, activate remote shunt calibration, and switch transmitter to standby power mode. Noise-free data signal is transmitted through analog voltage output or digital data output via RS-232. With 16 channels and 500 Hz frequency response, multiple systems can be used simultaneously.
---
Original Press Release:

Binsfeld Announces New Torque Telemetry System



The TorqueTrak 10K Torque Telemetry System is the "next generation" to the very popular TorqueTrak 9000 used to measure torque in real time on rotating machinery. Common applications include engine performance verification, drive system troubleshooting, manufacturing process evaluation and sea trials for new vessels.

A recent user (a Field Test Engineer) had this to say about the TorqueTrak 10K:

"The TT10K ROCKS! Data transmission was flawless. The ability to adjust the Zero Offset and System Gain makes scaling a snap. Very, very slick product. And the remote works great."

The attached catalog sheet and specification sheet provide a detailed description of the TorqueTrak 10K including a list of features. Also attached are two product photos. (Images in .TIF format are also available.)

For more information, please contact our Sales Manager:
Bob Holden
Phone: 800-524-3327
E-mail: bob@binsfeld.com

Stephen Tarsa
Vice President
Binsfeld Engineering
Stephen@binsfeld.com

TorqueTrak 10K Torque Telemetry System

Transmit Live Torque Data from a Rotating Shaft

Measuring live torque in real time is easier than ever with the new TorqueTrak 10K telemetry system. Convert virtually any drive shaft into a rotating torque sensor by simply mounting the transmitter, battery and a torque sensitive strain gage to the shaft.

Use the infrared remote control to adjust transmitter gain, activate the remote shunt calibration or switch the transmitter to standby power mode. The multi-line LCD receiver display and keypad make system adjustments straightforward. Low power consumption in the rugged transmitter allows longer battery life while sophisticated electronics assure accurate and reliable torque data output.

FEATURES
o Easy to Use - Fits any size shaft, any torque level. No machine modifications or disassembly required. Calibration is done off-the-shaft. Receiver display and keypad offer user-friendly interface
o Infrared Remote Control - Control transmitter operation including channel select,
gain/range, shunt calibration and low-power standby mode
o Reliable Data Transmission - Clean, noise-free data signal through analog voltage output or digital data output via RS-232
o Standby Power Mode - Extends transmitter battery life without disconnecting battery
o 16 Channels, 500 Hz Frequency Response - Use multiple systems simultaneously
o Rugged - Reinforced, injection-molded transmitter housing is built for demanding
applications and features V-groove and tape slot for secure mounting
o User Adjustable Gain - Amplify the strain/torque signal to the most useful level
o Equipment Case Included - Convenient carrying case provides rugged, watertight protection

More from Communication Systems & Equipment