Telemetry Receiver System fosters wireless data logging.
Press Release Summary: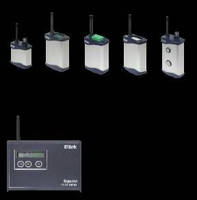 By automatically gathering data from any Gen II logger, Gen II RC250 enables monitoring of different values to create custom data logging system. Users can also receive and send Gen II transmitter data to third-party or customized software via Modbus/serial, eliminating need to run wires across plant or factory floor. Supporting 160 channels max, system operated from 110–250 Vac power supply or built-in rechargeable battery pack, features SMA antenna socket, and comes in aluminum case.
---
Original Press Release:

Why Run Wires? New Wireless Receiver Collects Your Data!



Mix and Match Eltek Gen II Data Loggers for a Custom Monitoring System



CHESTERLAND OH — Need to run wires to monitor your electrical equipment but don't want the cost or the hassle? Now CAS DataLoggers offers the Gen II RC250 Telemetry Receiver System from Eltek. The receiver automatically gathers data from any Gen II logger so you can monitor different values to create a custom data logging system. Users can also receive and send Gen II transmitter data to 3rd-party or customized software via Modbus/serial so there's no need to run wires across the plant or factory floor. Eltek Gen II Wireless Data Logging Systems provide data logging and alarm generation for a wide range of applications in mixed environments, especially for customers in the pharmaceutical sector (where 21 CFR Part 11 compliance is required) and in the industrial, construction, storage, research and conservation industries.



The Gen II RC250 is a high-performance telemetry receiver designed for use with Eltek's standard Gen II range of telemetry transmitters, repeaters and accessories. This receiver outputs ModBus RTU or serial data to a connected PC for integration into industry standard PC Software including LabVIEW, DASYlab, Wonderware or proprietary software compliant to CFR21 Part 11.



This feature enables a broad range of applications including:

• Monitoring and analysis

• Alarm and control

• Real-time data collection

• Temperature Profile mapping



Key features:

• Power supply for 110 to 250VAC included

• Built-in rechargeable battery pack for more than 24-hour operation should AC supply fail

• Built-in display for indicating which TX is active and its received signal strength

• Supplied with configuration software which includes setup for authorized transmitters

• Maximum 160 channels

• Can be used with multiple repeaters (type RP250GD)

• SMA antenna socket for attached antenna or external antenna options

• Rugged aluminum case for free standing or wall-mounted placement

• Polled data output on 6-pin Mini DIN socket

• Allows direct connection to PC or via Intranet or Ethernet using the Moxa D311 adaptor option or via GSM using Eltek's GSM modem kit



In a common industrial application where a central data logger is already monitoring a machine, users want to automatically transmit this data but their logger is too distant to run wiring. In this case Eltek's Gen II receiver can be placed next to the datalogger to automatically collect and transmit its readings to an office PC via serial communication.



Eltek Gen II Wireless Data Logging Systems feature extensive communication options for wireless connection of sensors with ranges easily extended by repeaters. 12-bit resolution for high accuracy and 250-channel capability make Eltek installations extremely cost effective. Accessories include alarms, power supplies and wall brackets. Eltek systems are used in just about any environment where accurate and reliable data is essential for monitoring, manufacturing, research or audit purposes.



To learn more about our Eltek Gen II Wireless Data Logging Systems, additional wireless products, or to find the ideal solution for your application-specific needs, contact a CAS Data Logger Applications Specialist at (800) 956-4437 or visit the website at www.DataLoggerInc.com.



Contact Information:

CAS DataLoggers, Inc.

12628 Chillicothe Road

Chesterland, Ohio 44026

(440) 729-2570

(800) 956-4437

sales@dataloggerinc.com

www.dataloggerinc.com

More from Software