Telemetry Collar features ultra-thin design.
Press Release Summary: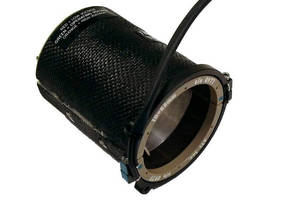 Housing all electronics needed to provide RF link from sensors mounted on rotating shafts, reciprocating rods, or other moving machinery to stationary DAQ/display instruments, Series 2010iUT is capable of transmitting data with signal content from DC up to 1,100 Hz. Embedded rotating loop antenna and induction power converter to provide continuous, non-interrupted measurements. Receiver demodulates signal and converts it to ±2, ±5, ±10 Vdc or 4-20 mA analog output.
---
Original Press Release:

Advanced Telemetrics International Introduces Ultra-Thin Telemetry Collar



The Ultra-Thin Telemetry Collar houses all of the electronics needed to provide a precision radio frequency link from sensors mounted on rotating shafts, reciprocating rods or other moving machinery to stationary data acquisition and display instruments.

Spring Valley, Ohio - Advanced Telemetrics International (ATi), a leading global supplier of wireless telemetry products and systems, announces an Ultra-Thin Collar design. The new 2010iUT Series Telemetry Collars are capable of transmitting data with dynamic signal content from DC up to 1100Hz.

Induction Powered

Power is supplied to the transmitter inductively for continuous, non-interrupted measurements. No batteries are required because the induction power supply delivers power through a stationary loop antenna to a rotating antenna. The rotating loop antenna and induction power converter are embedded into the Ultra-Thin Collar assembly. Single piece and split collars are available in most any size, to clamp or bolt to any shaft.

Transmitters

Transmitters are available for transmitting signals from accelerometers, RTDs, strain gages, thermocouples, thermistors or any other current or voltage type transducer or sensor. The miniature transmitters incorporate a crystal oscillator that is tuned to an exact frequency, eliminating the need for tuning by the end user. Transmitter frequencies can be staggered allowing multiple transmitters to be operated in close proximity with no interference. This allows for multi-channel systems or multiple systems to function within the same area. The transmitter modulates the sensor signals onto a RF carrier and transmits them to a stationary receiver.

Receivers

The receiver demodulates the signal and converts it to a ±2, ±5, ±10VDC or 4-20mA analog output. The wide band analog output provides frequency response from DC to 1100Hz. A second optional filtered output, set to any desired frequency, is available for maximum signal stability. The receivers also remotely activate the transmitter's Bipolar Shunt Calibration feature.

About ATi

Since its founding in 1987, Advanced Telemetrics International has been in the business of solving unique measurement challenges. ATi specializes in telemetry systems which deliver data from rotating shafts, reciprocating rods or other moving machinery to stationary data acquisition and display instruments.

In addition to their motion enabled telemetry systems, ATi also offers a wide selection of point-to-point telemetry systems, wireless torque sensors and custom strain gaging services.

Advanced Telemetrics products have been utilized for testing in automotive, aerospace, biomedical and a variety of other research or development related applications by major universities and corporations worldwide.

For more information, please visit the ATi website: www.atitelemetry.com, or contact them at sales@atitelemetry.com.

Company Name: Advanced Telemetrics International

Address 1: 2361 Darnell Drive

City: Spring Valley

State: OH

Zip: 45370

Country: USA

Phone: (937) 862-6948

URL: www.atitelemetry.com/

Contact Name: Dale Snyder

Title: Sales Engineer

E-mail: dsnyder@atitelemetry.com

More from Fluid & Gas Flow Equipment