Telehandler offers load capacity of 10,000 lb.
Press Release Summary: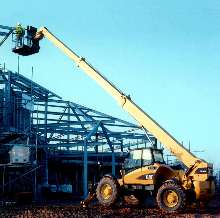 Model TH560B provides max lift height of 44.25 ft and max forward reach of 30.2 ft. Steering modes include 2-wheel, crab, and circle steer for agile maneuvering in tight spaces. Truck offers turning radius of 12.7 ft and 48° axle steering angle with no tail swing. Cat 3054E standard engine generates 99 gross hp, while optional configuration delivers 120 gross hp. Powersyncro transmission has 4 speeds forward and 3 reverse for travel speeds up to 20 mph.
---
Original Press Release:
Caterpillar Introduces High Performance TH560B Telehandler

Caterpillar introduces the TH560B telehandler, the largest of the B-Series line introduced to date. The B-Series telehandlers feature new designs to provide increased performance, easier operation, expanded versatility and reduced maintenance. The new TH560B is designed to work productively and cost effectively in a variety of construction and industrial applications.

The TH560B has an operating weight of 26,450 pounds (12 000 kilograms) and a rated load capacity of 10,000 pounds (5000 kilograms). Maximum lift height is 44.25 feet (13.5 meters), and maximum forward reach is 30.2 feet (9.2 meters).

High capacity and extended lift height and reach combine with excellent maneuverability for high performance in demanding applications. The TH560B features three steering modes-two wheel, crab and circle steer-for agile maneuvering in tight spaces, and the turning radius is only 12.7 feet (3.87 m). The TH560B features 48-degree axle steering angle. No tail swing further enhances maneuverability in tight spaces.

A standard rear axle lock engages automatically when the boom is lifted more than 45°, enhancing stability. Newly designed stabilizers offer ±50 of leveling and minimize the bulldozing effect other stabilizers can have. A frame leveling system gives ±10° of leveling capability.

System-matched power train

Cat® power train components are designed as a total system to optimize performance and life. The Cat 3054E engine is offered in two different configurations for the TH560B. The standard engine generates 99 gross horsepower (74.5 kilowatts), and the optional configuration cranks out 120 gross horsepower (92 kilowatts).

The engine provides high torque and low emissions, as it complies with the latest round of worldwide emissions regulations. The engine also offers excellent fuel efficiency and reduced sound levels.

A new cooling system enhances performance in challenging applications. The cooling fan is driven directly from the engine through the transmission, and as such, does not require
an additional hydraulic pump or related lines. Clean air is pulled from outside the machine through the forward-facing, fully screened cooling pack.

The purpose-designed powersyncro transmission has four speeds forward and three reverse for travel speeds up to 20 miles per hour (32 kilometers per hour). The transmission mounting design eliminates the need for a separate transfer box. To further
simplify systems and reduce downtime and maintenance costs the transmission shares oil with the work tool hydraulics, decreasing the number of filters on the machines.

Sure-footed stopping power is provided by oil-immersed disc brakes on the front axle. The braking surface area is 25 percent greater than the TH560B predecessor's surface area. The machine can be equipped with an optional differential lock for improved
traction in poor underfoot conditions.

Another optional feature, self-aligning steering, allows the operator to change steering modes with the wheels in any position. Using axle-mounted sensors, the system actuates the change when the wheels are centered.

Productive work environment

The TH560B comes equipped with either a canopy or an enclosed cab, which is certified to provide falling object and rollover protection. The new control layout is simple and logical, and the electro-hydraulic joystick allows the three boom functions to operate simultaneously for precise load placement in difficult applications. The joystick also operates the auxiliary hydraulic function and allows the option of a second auxiliary
service for the use of work tools that require more than one hydraulic service.

A fully adjustable standard suspension seat is standard, and an air suspension seat is available as an option. A new electronic machine information display helps the operator work safely and productively.

Expanded versatility

An integrated toolcarrier front is standard on the TH560B. The hydraulic quick coupler allows the operator to change non-hydraulic tools quickly and easily from inside the cab. An auxiliary hydraulic service at the boom head and a continuous hydraulic flow supply are available to operate hydraulic work tools.

New work tools include a material handling arm, a universal standard carriage and a side-shift carriage. Other options that extend versatility include a rear tow hitch, multiple tire choices to match the machine to the application, and a lighting package for the boom and cab.

Quick maintenance, easy service access

The TH560B is designed for fast, easy maintenance and service to increase uptime and drive down operating costs. Daily maintenance has been reduced to checking fluid levels and performing a quick walk-around inspection. Engine oil and filter changes and routine lubrication are now required at 500 hours, rather than 250. The combined hydraulic and transmission filter change interval has been extended to 1,000 hours.

All service points are readily accessible, and major components are easy to reach at ground level. The machine can now be diagnosed with the Cat Electronic Technician service tool for faster, more accurate troubleshooting.

Another new option for B-Series telehandlers is the Caterpillars Machine Security System for theft deterrence. The programmable key system provides optimum machine security for both fleet users and single owners.

For more information about the TH560B telehandler, customers should contact their local Cat dealer or visit the Caterpillar web site at www.cat.com.


Basic Specifications

                                   TH560B

Engine                            Cat 3054E

Gross power

Standard                        99 hp (74.5 kW)

Optional                       120 hp (92 kW)

Rated load capacity            10,000 lb (5000 kg)

Operating weight               26,450 lb (12 000 kg)

Maximum lift height            44.25 ft (13.5 m)

Maximum forward reach          30.2 ft (9.2 m)

Turning radius over tires      12.7 ft (3.9 m)

Top travel speed               20 mph (32 km/h)
More from Electrical Equipment & Systems