Teledyne LeCroy Launches RP4030 Active Voltage Rail Probe and SPMI Decoder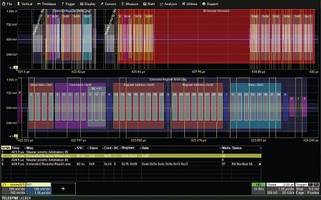 A perfect fit with Teledyne LeCroy's 8-channel & 4-GHz High Definition Oscilloscopes for digital power management IC (PMIC), power sequencing, and power-integrity testing.
CHESTNUT RIDGE, N.Y., Nov. 2, 2016 - Teledyne LeCroy today launches two new products - the RP4030 active voltage rail probe and an industry first MIPI System Power Management Interface (SPMI) serial decoder. The RP4030 probe measures small signal variations on a DC power/voltage rail, while the SPMI decoder monitors and correlates SPMI serial bus messages with DC power/voltage rail changes. These two products are ideal for testing line or battery-powered computing and embedded systems that use digital power management ICs (PMICs) to reduce power consumption and increase system efficiency. They add to the extensive capabilities already provided by Teledyne LeCroy's HDO8108 (1 GHz, 8 channel, 12-bit) and HDO9404 (4 GHz, 4 channel, 10-bit) High Definition oscilloscopes.
RP4030 Active Voltage Rail Probe
The RP4030 has a large (±30V) built-in offset range, low attenuation (1.2x), and high DC input impedance (50 kΩ). This combination of capabilities permits acquisition of DC power/voltage rails with offset equal to the nominal DC rail voltage thereby permitting the DC signal to be centered on the oscilloscope screen and the use of high-sensitivity oscilloscope gain settings (e.g. 5 mV/div) to view the noise and small signal AC variations on the DC rail voltage. The probe has 4 GHz of bandwidth - twice that of competitive probes - and ideally matches the Teledyne LeCroy HDO9404 High Definition Oscilloscope for power-integrity testing.
The RP4030 comes with a wide combination of tips and leads. A standard 36" (914mm) SMA to MCX cable attaches to the probe and permits connection to a 4-GHz MCX solder-in lead, 4-GHz MCX PCB-mount receptacle, or 3-GHz MCX coaxial cable to U.FL receptacle which then connects to a U.FL PCB-mount receptacle. An optional browser tip is also available. The very high bandwidth and very small size of the solder-in lead or the U.FL PCB-mount receptacle (3mm x 3mm) make these the preferred choices for attaching many tips and leads to very compact mobile/handheld and battery-powered systems. Additional receptacles or leads may be purchased as accessories and left connected in-circuit for quick and easy connection of many different signals during different test or validation stages.
The price of the RP4030 is $2,580 US. The optional RP4000-BROWSER is $1,590 US. Estimated delivery is 2-4 weeks ARO. Teledyne LeCroy's HDO9000 Series now supports the RP4030 with software version 8.2.1.1. Support for most other Teledyne LeCroy oscilloscopes begins in January 2017.
MIPI System Power Management Interface (SPMI) Serial Decoder Option
Developers of mobile/handheld and battery-powered systems often turn to the MIPI SPMI to facilitate communication between embedded system CPUs and power management ICs (PMICs). The goal is to maintain desired system performance while adjusting power levels to achieve the best embedded system efficiencies.
Teledyne LeCroy's SPMI decoder provides an intuitive, transparent, color-coded protocol decode overlay for the acquired SPMI physical-layer waveform. The SPMI protocol decode information is also displayed in a single time-interleaved table with other protocol data. Touching a row in the interactive table quickly zooms to the selected protocol packet, and pattern searches and filters provide an easy means of locating the desired protocol packets and messages. The SPMI decoder is multi-master/multi-slave capable, provides full command and arbitration sequence support, and supports all sequences with pauses.
The price of the SPMI decoder is $2,010 US. Estimated delivery is 2-4 weeks ARO.
A Perfect Fit with Teledyne LeCroy High Definition Oscilloscopes
Teledyne LeCroy's HDO8108 eight-channel, 1-GHz, 12-bit resolution oscilloscope finds wide use in all facets of system power management including: digital power management transient rail response testing, PMIC current sharing/tracking testing, rail voltage power integrity testing, power rail startup and sequencing testing, power response timing measurements, and crosstalk and harmonics evaluation. The eight channels are ideal for viewing many power/voltage rails simultaneously along with other correlated signals. Long memory (up to 250 Mpts/ch) provides the ability to capture very long time periods at high sample rates, and mixed-signal (MSO) options permit serial clock and data signal capture without using analog input channels. With 4 GHz of bandwidth, the HDO9404 is the ideal choice for power integrity testing when more bandwidth is desired (e.g., when probing close to the CPU). Many specialized single-ended and differential active voltage probes and amplifiers are available in addition to a variety of current probes allowing for complete test coverage.
Advanced Rail Analysis Tools
Teledyne LeCroy is also announcing "Alpha" availability of an Advanced Rail Analysis Toolbox. This toolbox performs a cycle-by-cycle analysis on the rail voltages and displays a variety of mean parametric values in a Numerics table. Per-cycle Waveforms and Zoom+Gate can then be used to vividly display time-varying DC rail behaviors enabling faster Time-to-Insight when troubleshooting system power behaviors.
About Teledyne LeCroy
Teledyne LeCroy is a leading manufacturer of advanced oscilloscopes, protocol analyzers, and other test instruments that verify performance, validate compliance, and debug complex electronic systems quickly and thoroughly. Since its founding in 1964, the Company has focused on incorporating powerful tools into innovative products that enhance "Time-to-Insight". Faster time to insight enables users to rapidly find and fix defects in complex electronic systems, dramatically improving time-to-market for a wide variety of applications and end markets. Teledyne LeCroy is based in Chestnut Ridge, N.Y.
For more information, visit Teledyne LeCroy's website at teledynelecroy.com.
Media contact:
Hilary Lustig, Teledyne LeCroy (845) 578-6120
Editors' Technical contact:
Ken Johnson, Teledyne LeCroy (845) 216-8399
Customer contact:
Teledyne LeCroy Customer Care Center (800) 553-2769
Website: teledynelecroy.com
SOURCE Teledyne LeCroy
Web Site: http://www.teledynelecroy.com
More from Electronic Components & Devices