Teledyne Hastings Instruments Announces 24 VDC Version for 200 Series Mass Flow Meters and Flow Controllers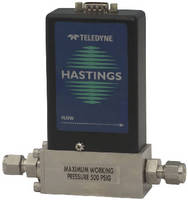 HAMPTON, VA. - Teledyne Hastings Instruments (THI) has recently introduced a 24 VDC version of the 200 series mass flow meters and mass flow controllers. The 24 VDC option provides users with a convenient connection to PLC's and for other installations (e.g., gas skids, instrumentation chassis...) where bipolar +/- 15 VDC is not readily available. The 24 VDC version continues to offer the same stability and repeatability as the trusted +/- 15 VDC versions of the 200 series.

THI, an ISO 9001:2008 certified manufacturer, produces a complete line of instruments for precise measurement and control of vacuum, pressure, and gas flow.

For further information on the new 24 VDC 200 series version of the mass flow meters and mass flow controllers, or information on any Teledyne Hastings product, contact Douglas Baker at Teledyne Hastings Instruments. Write: P.O. Box 1436, Hampton, VA 23661; email: hastings_instruments@teledyne.com; phone: (toll-free) (800) 950-2468; fax: (757) 723-3925; or visit the web site at www.teledyne-hi.com .


Related