Telecom Blade is based on PowerPC 750FX processor.
Press Release Summary: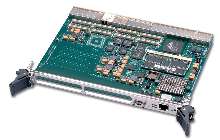 Katana(TM) 750v cPSB blade features 2 PTMC sites, 5 Ethernet channels, and CTBus/H.110 TDM interconnect. Unit combines 800 MHz processor with Marvell MV64360 system controller, which provides high-speed access to as much as 1 GB SDRAM and 128 MB of flash memory. PTMC sites, which support 32-bit PCI data transfers at 33 MHz or 66 MHz, are equipped with dedicated CTBus and RMII interfaces. Blade's cPSB interface complies with PICMG 2.16 Ethernet-based standard.
---
Original Press Release:

Artesyn Introduces cPSB Telecom Blade with Dual PTMC and H.110


PTMC sites, five Ethernet channels and local CTBus/H.110 interconnect maximize TDM and packet processing performance and flexibility

Madison, WI April 26, 2004 - - Artesyn Communication Products, a subsidiary of Artesyn Technologies (NASDAQ: ATSN), today announced the Katana(TM)750v telecom blade. The new cPSB (CompactPCI Packet Switching Backplane) blade, based on IBM's PowerPC® 750FX processor, features two PTMC sites, five Ethernet channels, and a versatile CTBus/H.110 TDM interconnect that makes Katana easy to configure for a variety of telecom infrastructure applications, including WAN access, SS7 signaling, media gateways, traffic processing, and softswitches.

"Katana's high-speed PowerPC processor, dual PTMC sites, and versatile TDM architecture provide a unique blend of performance and flexibility," said Todd Wynia, vice president of marketing at Artesyn Communication Products.

"Whether you're designing a SIGTRAN gateway, softswitch, or media gateway, Katana provides the open, flexible, high-availability platform needed to get high-performance network infrastructure products to market fast."

The Katana750v combines an 800-MHz PPC 750FX processor with a Marvell MV64360 system controller, which provides high-speed access to as much as one Gbyte of SDRAM and 128 Mbytes of flash memory. The Marvel controller also provides three Ethernet channels. Two of these (Gigabit Ethernet) are routed to the cPSB backplane. The third channel (10/100BaseT) channel is routed to an RG45 connector on the front panel. The Katana750v also provides two additional 10/100BaseT channels, which are routed between the PTMC sites and RJ45 connectors that reside on a rear transition module.

Katana's PTMC sites, which support 32-bit PCI data transfers at 33 MHz or 66 MHz, are equipped with dedicated CTBus and RMII interfaces that facilitate collaborative processing and provide direct access to external TDM and packet data sources. Each site's local CTBus is linked through an H.110 bridge and time slot interchanger, which enables the two sites to exchange TDM (time division multiplexed data) data with each other and the H.110 backplane bus directly. The two sites are also equipped with an Ethernet RMII interface, which enables them to send and receive packet data directly via Katana's two external 100-Mbit/sec Ethernet ports. This close coupling between the PTMC sites and versatile data acquisition capability makes Katana ideal for building integrated systems that combine network access (LAN or WAN) with packet, protocol, and media processing functionality (i.e., DSP farm) on the same blade.

Katana's cPSB interface complies fully with PICMG 2.16, an Ethernet-based standard for moving data between cPSB boards. Katana also supports the PICMG 2.9 System Management Bus, which provides an I2C-based Intelligent Platform Management Interface (IPMI) that makes it easy to monitor, control and exchange management information between the Katana750v and shelf management controllers.

Artesyn offers a variety of PTMC modules that make it easy to customize Katana for specific telecom applications. Artesyn's Pm3Gv PTMC WAN interface module, for example, provides eight E1/T1 ports that enable the Katana750v to be used as an SS7 signaling blade, signaling gateway, or softswitch. Artesyn also offers a family of PowerPC-based processor modules (PmPPC) with multiple Ethernet channels that enable OEMs to add auxiliary processing for dedicated functions like SONET mapping, packet and protocol processing.

Katana's PTMC sites can also be used to add custom and third party modules.

By adding a cryptography module, for example, OEMs can use the Katana750v to provide secure access for applications such as VPNs, WLAN and SOHO gateways. With a LAN module, the Katana750v can handle IP input and output in a signaling gateway or softswitch. And with a fibre channel or OC-3 module, the Katana750v can be used as a storage area network interface or ATM end point.

The Katana750v is available with turnkey software for a variety of signaling, network interface, gateway, and network processing applications.

Artesyn's SS7 software, for example, enables the Katana750i to be used as an SS7 signaling blade that provides up to 64 signaling channels over E1/T1 networks with 100% line utilization. This makes the Katana750v ideal for Signaling Transfer Points, Service Control Points, Signaling Gateways and Base Station Controllers. Artesyn also offers SIGTRAN signaling gateway software that make it easy to connect TDM-based PSTN networks to IP-enabled STPs, SCPs, HLRs, VLRs and MGCs.

Additional software support for the Katana750v includes TimeSys real-time Linux, VxWorks 5.5/Tornado 2.2, a reference kernel port for GPL Linux, and a PowerPC boot loader (PPCBoot) with power-on self test.

The Katana750v complies with all major safety, EMC, and environmental standards, including IEC60950/EN60950, UL60950, CSA C22.2, Global IEC - CB Scheme Report IEC 60950), NEBS Telecordia GR-63, and GR1089 Level 3, FCC Part 15 (U.S. and Canada), and ETSI EN300386-V1.3.1.

The Katana750v costs less than $2000 OEM quantity, and is available immediately for early customer involvement.

About Artesyn Technologies, Inc.
Artesyn Technologies, Inc., headquartered in Boca Raton, FL., is a world leader in designing and manufacturing power conversion solutions for industry-leading OEMs in communications and IT infrastructure markets and is one of the foremost providers of controllers and WAN/protocol software for worldwide telecom and datacom systems and real-time communication applications. The Company has a global sales reach with design and manufacturing facilities in Asia Pacific, Europe and North America. Artesyn is a public company whose common stock is traded on the NASDAQ stock market under the symbol ATSN. For more information about Artesyn Technologies and its products, please visit the Company's web site at artesyn.com.

Artesyn
Kim Anderberg
608-831-5500
kima@artesyncp.com

More from Cleaning Products & Equipment