Telecentric Lenses suit volume inspection applications.
Press Release Summary: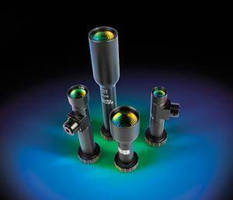 Available in 40 models with working distances from 40–300 mm and magnification from 0.5–8x, TECHSPEC® Compact Telecentric Lenses provide solution for machine vision applications. All offer in-line illumination option, which uses port to connect fiber optic light guide or LED module. RoHS-compliant lenses feature telecentricities of <0.2° and distortions of <0.2%. With fixed aperture and lockable focus, lenses are suited for assembly lines and factory floors.
---
Original Press Release:

TECHSPEC® Compact Telecentric Lenses Ideal for Volume Inspection Applications



Six new models feature longer working distances



Barrington, N.J. – Edmund Optics® (EO), the premier provider of optical components, offers its TECHSPEC® Compact Telecentric Lenses, including six new models with longer working distances of 220 mm and 300 mm. Featuring a telecentric design across all magnification options, these versatile lenses offer a compact, cost-effective solution for a wide variety of machine vision applications. A fixed aperture and lockable focus are excellent for implementation onto assembly lines and factory floors, as they will stay permanently fixed.



Compact Telecentric Lenses



Feature volume pricing for OEM applications

TECHSPEC Compact Telecentric Lenses are designed to be cost competative in high volume applications, with many different working distance/magnification options. Engineered to provide the specifications that users need at a competitive price point, these lenses are well suited for applications ranging from single unit inspection stations to high volume implementation. TECHSPEC Compact Telecentric Lenses provide superior telecentricity and low distortion, which is ideal for integration into gauging systems.



Available in 40 models

TECHSPEC Compact Telecentric Lenses are available in 40 different models, with six new longer working distance models. Lenses range from 0.5x to 8x magnification and working distances from 40 mm to 300 mm. All sizes and working distances are available in models with an in-line illumination option, which are designed with a port to connect a fiber optic light guide or LED module. The RoHS compliant lenses feature telecentricities of <0.2° and distortions of <0.2%. TECHSPEC Compact Telecentric Lenses are in-stock and available for immediate delivery for fast turnaround and excellent value.



Please stop by the Edmund Optics Booth 816 at The Vision Show in Boston, MA, to learn more about the TECHSPEC Compact Telecentric Lenses.



About EO:

Edmund Optics® (EO) is a leading global manufacturer and distributor of precision optics, optical assemblies and image processing components with headquarters in the USA and manufacturing facilities in the U.S. and Asia and sales representatives around the globe. With a portfolio of more than 27.600 products, EO has the world's largest inventory of optical components for immediate delivery and offers products, standard or customized, in small quantities but also in volume for various industries. Request a quote or place your order via phone +49(0)721 627 3730, by catalog or through the website www.edmundoptics.eu, or contact us via email sales@edmundoptics.eu.



European Contact:

Agnes Huebscher

Director European Marketing

Edmund Optics

Zur Giesserei 8

76227 Karlsruhe, Germany

Tel.:   +49 (0)721-62737-38

Fax:   +49 (0) 721 6273750

E-Mail: AHuebscher@edmundoptics.de

More from Optics & Photonics