Telecentric Lenses correct for perspective error.
Press Release Summary: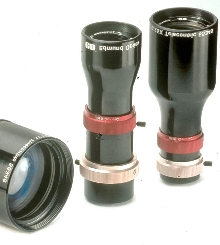 MVO (Machine Vision Optics) Telecentric Lenses for industrial machine vision applications are available in 4 magnifications from 0.13X to 1X. Working Distances range from 150 to 200 mm to 115 to 140 mm, and field of view ranges from 49.2 to 6.4 mm. They can be used with CCD sizes to 2/3 in., and provide less than 0.1 telecentricity. All lenses have front filter thread for addition of color filters, polarizers, or other mounted components.
---
Original Press Release:

Edmund Industrial Optics Announces Telecentric Lenses for Industrial Applications


March 2, 2002, Barrington, NJ - Edmund Industrial Optics (EO) of Barrington, New Jersey is providing MVO Telecentric Lenses designed specifically for industrial machine vision applications. Telcentric lenses are important tools for machine vision systems and metrology applications because they correct for perspective error.

The MVO (Machine Vision Optics) Telecentric Lenses are available in four magnifications and provide both high resolution and low distortion. They can be used with CCD sizes as large as 2/3 inch, and provide less than 0.1 telecentricity. A given magnification can be obtained anywhere within the specified working distance range, simply by refocusing.

The following combinations of magnification, working distance, and field of view (FOV based on using a 1/2 inch format CCD) combinations are available:

Magnification: 0.13X, working distance: 150 to 200 mm, FOV: 49.2 mm.
Magnification: 0.25X, working distance: 175 to 200 mm, FOV: 25.6 mm.
Magnification: 0.5X, working distance: 125 to 150 mm, FOV: 12.8 mm.
Magnification: 1X, working distance: 115 to 140 mm, FOV: 6.4 mm.

All the lenses have a front filter thread for the addition of color filters, polarizers, or other mounted components. Both the aperture and focusing adjustment positions can be fixed by a set screw to remain secure in high-vibration environments.

About Edmund Industrial Optics Inc.
Edmund Optics (EO) has been a leading supplier of optics and optical components to industry since 1942, designing and manufacturing a wide array of multi-element lenses, lens coating's, imaging systems, and opto-mechanical equipment. EO is application-focused and pursues new ways to implement optical technology, enabling advancements in semiconductor manufacturing, industrial metrology, and medical instrumentation. Our staff and facilities span the US, Europe, Singaporc, Japan, and China. EO's skilled optical engineers design precision products for use in research, test & measurement applications, and for the automation of manufacturing, processes. Visit www.edmundoptics.com to learn more.

NOTE TO EDITORS:
Photo of MVO telecentric lenses is attached

Contact: James E. Liolin
Lion Advertising
516-294-9250
jliolin@lionadv.com

Julieanne Wagner
Edmund Industrial Optics
856-573-6250, ext. 6158
jwagner@edmundoptics.com

More from Electrical Equipment & Systems