TekTuff™ Dry Color Blends are suitable for rotational molders.
Press Release Summary: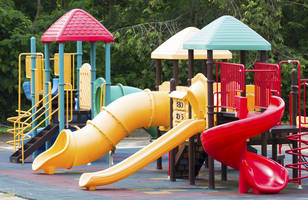 TekTuff™ Dry Color Blends enable user to boost part performance. Units are used to design parts with thinner walls and to increase color levels for brighter or more opaque parts. Products help to reduce impact resistance.
---
Original Press Release:
Dry Color Blend for Rotomolding Boosts Impact Strength, Providing Lower-Cost Alternative to Pulverized Compound
New TekTuff™ Colors from Teknor Apex Let Molders Enhance Impact Strength, Design for Thinner Walls, or Increase Color Levels for Brighter or More Opaque Parts
New functionalized dry colors to be introduced by Teknor Apex Company, Color Division, at Rotoplas 2017 enable rotational molders to increase impact strength while avoiding the added cost of a pulverized impact-modified compound (Booth 406).
TekTuff™ dry color blends provide impact performance that is substantially greater than standard dry colors and is equivalent to or greater than that of impact modified compounds, whose manufacture requires the extra steps of extrusion and pulverization. The enhanced impact strength available with TekTuff colors provides rotational molders with the options of boosting part performance, designing parts with thinner walls, or increasing color levels for brighter or more opaque parts. With standard dry colors, higher loadings often result in reduced impact resistance.
When compared with standard dry colors in the Association of Rotational Molders (ARM) cold impact tests, the new TekTuff colors exhibited 40% greater impact resistance in red formulations and 33% greater in black (see graph).
"TekTuff dry color blends resolve a longstanding dilemma faced by rotomolders," said John Wood, technical manager for the Color Division of Teknor Apex. "While dry color is the most cost-effective way of adding pigments, higher loadings can cause unacceptable impact performance-a key metric in the rotomolding industry. Until now, the only alternative has been to use pulverized pre-colored compounds. TekTuff colors offer the benefits of pre-colored compounds without the substantially higher cost."
The Color Division of Teknor Apex has decades of experience as a supplier of colorants for multiple processes, including rotational molding. In recent years it has developed a number of "functionalized" color product lines under the TekTuff brand for achieving enhanced impact performance in extrusion, injection molding, and blow molding. The new TekTuff blends for rotational molding draw on the company's expertise in the manufacture of dry colors.
About Teknor Apex. Teknor Apex Company, a privately held firm founded in 1924, is one of the world's leading custom compounders of plastics. Teknor Apex produces flexible and rigid vinyl, thermoplastic elastomers, nylons, color masterbatches, specialty chemicals, and hoses. The company is headquartered in Pawtucket, RI, U.S.A. and operates thirteen manufacturing facilities worldwide in the United States, Belgium, Germany, China, and Singapore. To learn more visit: www.teknorapex.com.
The Teknor Color Division is a leading producer of color concentrates for use in all thermoplastic processes. Address all mail inquiries to Teknor Apex, 505 Central Avenue, Pawtucket, RI 02861 U.S.A. Tel: 1-401-725-8000. Tel. from U.S. only: 1-800-554-9885. Fax: 1-401-724-8520. E-mail: info@teknorcolor.com
More from Electronic Components & Devices