Tekscan Announces Lower-Cost ZIF and LIF-Compatible Connection Option for Custom Force Sensors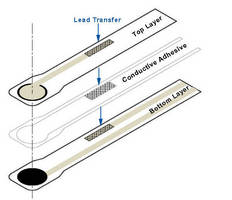 Tekscan, Inc. announces a new lower-cost connection option for its custom FlexiForce® sensors. In addition to the traditional pin connection, Tekscan is now offering a lower-cost termination method to enable OEM customers to utilize a low profile connection such as a ZIF connector. It also allows easier connection directly to PCB boards and flex circuits via conductive epoxies, tapes, or mechanical means. This opens up more options to OEM customers in the design of smaller products such as mobile communication devices, portable, wearable medical devices such as drug delivery pumps, etc. In these types of applications, space is at a premium. This new ZIF-compatible termination option provides more flexibility in such product designs, which cannot always accommodate the larger area required for pin connections.

FlexiForce sensors are thin, flexible sensors with conductive material printed on two substrates. The benefits of this superior construction include:

better linearity

measurement of higher loads

stable output with respect to load area

The performance benefits of this construction, however, have historically limited the connection methods. Pin connectors were most practical and cost-effective. Tekscan has been successful in the past with utilizing alternate connection methods when required by customers. However, these were costly and manual solutions, involving heat-bonded Z-Axis tape.

To offer lower-cost alternate connection options to our OEM customers, Tekscan has developed a more streamlined, lower-cost process which involves screen-printing the conductive adhesive during the actual manufacturing process. A ZIF connector is typically mounted to a circuit board, and the sensor tail simply slides in to the connector. A locking mechanism generally holds the sensor in place. The traditional pin termination is still available to OEM customers who have more available space in their product for electronic connections. Pin connectors can also be an advantage when a product will be subjected to rougher handling conditions and a more secure connection to the board is required.

Standard, off-the-shelf FlexiForce® sensors are still terminated with a 3-pin connection, and are available online for testing and prototyping.

More from Packaging Products & Equipment