TEKLYNX International Improves GHS-Compliant Labeling Efficiency and Accuracy for Shepherd Material Science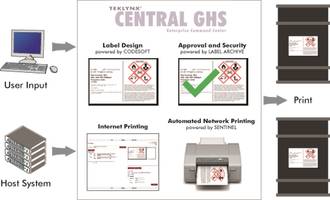 TEKLYNX CENTRAL GHS enterprise barcode labeling software solution streamlines labeling operations and increases label printing speed for leading materials manufacturer
MILWAUKEE (PRWEB) AUGUST 28, 2018 - TEKLYNX International, the world's leading barcode and RFID labeling software developer and solutions provider, today reported its TEKLYNX CENTRAL GHS enterprise label management software implementation improved labeling efficiency and accuracy for industry-leading materials manufacturer Shepherd Material Science.
The materials manufacturer partnered with TEKLYNX to streamline labeling operations across its three companies: Shepherd Color Company, Shepherd Chemical Company and Glass Coatings & Concepts. Shepherd Material Science also sought to improve its ability to efficiently and accurately produce labels compliant with the Globally Harmonized System of Classification and Labeling of Chemicals (GHS).
The TEKLYNX CENTRAL GHS implementation simplified labeling operations by moving the manufacturer from many labeling systems to one centralized labeling system across its companies. "Prior to TEKLYNX CENTRAL GHS, production operators relied on up to three other team members to print required GHS-compliant labels," explains Diana McDonough, Senior Developer for Shepherd Information Systems. "Our goal was to eliminate this dependency and give operators the ability to print labels in a more time-efficient, autonomous manner while maintaining accuracy."
Following its TEKLYNX CENTRAL GHS implementation, the manufacturer is better positioned to comply with GHS labeling requirements because team members can now efficiently pull the necessary phrases, symbols, signal words and hazard elements directly from the SDS authoring software's centralized database, reducing the time required to print labels by 10%.
The TEKLYNX CENTRAL GHS implementation also had a ripple effect of savings throughout other areas of the organization. Prior to the implementation, the manufacturer's sample department printed sample labels in batches of four, but sample orders did not always occur in batches of four. New printers purchased to support the TEKLYNX CENTRAL GHS implementation have the ability to print labels one at a time, significantly reducing wasted label stock.
For TEKLYNX General Manager Doug Niemeyer operational improvements and cost savings are the true measure of success for TEKLYNX implementations. "We're on a mission to help companies work better," states Niemeyer. "It's why we partner closely with customers like Shepherd Material Science throughout the implementation to ensure our integrated technology solutions drive improvements well beyond the barcode software itself."
To read more about Shepherd Material Science's experience with TEKLYNX CENTRAL GHS, download the full case study here. To learn more about TEKLYNX barcode labeling solutions, visit teklynx.com.
About TEKLYNX International 
TEKLYNX International is the world's leading barcode and RFID labeling software developer and solutions provider. An industry innovator for over 30 years, TEKLYNX helps companies operate smoothly and efficiently by implementing labeling solutions that streamline operations while staying ahead of industry-specific compliance and emerging regulations. TEKLYNX is world-renowned for its customer service; offering flexible purchase options, unparalleled service and support, and a comprehensive product offering that grows with companies over time. With operations in the United States, Europe, Japan, Latin America, China and Singapore, more than 750,000 companies in over 120 countries look to TEKLYNX integrated software solutions for their standard of success. Learn more by visiting teklynx.com, LinkedIn, Twitter @Teklynx, and Facebook.com/TEKLYNXInternational or call 888-629-4444.
Contact Information
Colleen Kasel
Bridge Street Branding
+1 9709882511
Jenna Wagner
TEKLYNX International
4148374763
More from Material Processing