Miscellaneous Cleaning Equipment
TEK Industries Expands Capabilites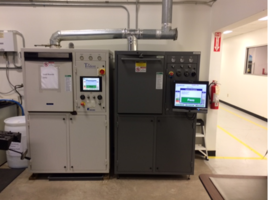 TEK Industries, located in Vernon, Connecticut, is a full service electronic contract manufacturer. TEK designs, develops, and manufacturers custom electronic products serving a broad range of Military, Medical, RF, Industrial, Security & Access Control, Telecom, Commercial and other industry applications. They recently expanded their capabilities with the addition of a new a new de-flux cleansing system.
Aqueous Technologies - Trident LDO PCB De-fluxing Cleaning System.
Our customers challenged TEK to reduced cycle time on their product, and we delivered!
An additional Trident board washing system has helped us reduce the cleaning cycle time by more than 30 minutes on each run. In addition, TEK Industries has the ability to run multiple customers product in sequence, saving more time and money.
TEK Industries is a professional company with over 25 years of experience designing and manufacturing all types of electrical and mechanical products. TEK specializes in services such as automated and hand assemblies, subcontract services, prototypes, turnkey systems, mechanical and cable assemblies. Value added services such as functional testing are performed on all assemblies; parametric and customized Bed of Nails testing is available.
Contact us to start your design process or for a quick quote on your current project.
More from Mechanical Power Transmission