Teflon® Tape ranges from .020-.125 in. thick.
Press Release Summary: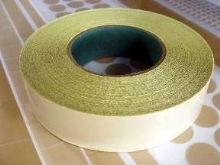 Fat Teflon® Tape is conformable, non-reinforced skived tape with pressure sensitive adhesive on one side. Product is non-porous, self-lubricating, chemical and moisture resistant, and resistant to extreme temperatures from -100 to 400°F. Offered in 5 or 36 yd rolls, tape comes in widths from ½-12 in. and is available with High Temp Silicone or Acrylic Adhesive. Typical uses include insulating, masking, anti-stick, release, and friction reduction.
---
Original Press Release:
New
"Fat" PTFE (Teflon®) Tape: The unique aspect of this Teflon® (PTFE) Tape is that it is "Fat" (= Thick) with thicknesses well above the thin gauge standard product offering. Most PTFE Tapes with adhesive are offered in thicknesses from .003" up to a maximum thickness of .010". Fat Teflon® Tape is available from .020" thick up to .125" thick. Fat PTFE is a conformable, non-reinforced Skived Teflon® (PTFE) Tape with pressure sensitive adhesive on one side. It is specifically designed for applications where thin Teflon® tapes are not enough. Fat PTFE has the heft, density and mass that make it very desirable for applications where thicker materials are a must. Fat Teflon® has all the other excellent characteristics associated with standard Teflon® tapes: Superior insulating strength. Non-Stick surface. Comformable & Flexible. Resistant to Extreme Temperatures (-100F to 400F). Chemical, Heat & Moisture Resistant. Non-porous. Excellent Release. Self-lubricating. Anti-Friction. Excellent Dielectric Strength. Uses: Insulating & Masking Tape, High Temp Tape, Anti-Stick Release Tape, Friction Reduction, Cover metals to create sliding surface, reduce noise, chute liner & guide rails, aircraft mold release. Available in 36-yard roll length or Economical 5-yard rolls; Widths: From ½" wide up to 12" wide. Can be fabricated into custom die-cut parts, discs, squares, donuts, gaskets, etc. Available with High Temp Silicone or Acrylic Adhesive. Also available in 12" wide Sheets.
Related