Tebis's Version 4.0 Release 5 Software increases speed of operation.
Press Release Summary: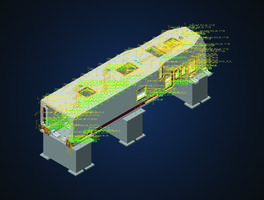 Tebis's Version 4.0 Release 5 CAD/CAM Software helps users in accelerating processes without any functional restrictions. Enabling users to easily edit large and complex parts, the new version software offers extended parallel processing in calculation of NC programs for re-roughing applications.
---
Original Press Release:
Tebis Announces Release of the New Faster and More Productive Cersion of its CAD/CAM Software.
Tebis Version 4.0 Release 5 provides users with increased speed of operation and improved productivity
Tebis America, a leading software company specializing in CAD/CAM systems for design and manufacturing servicing the tool, die, mold, automotive and aerospace manufacturing industries has announced the latest Release 5 of its Version 4.0
Tebis has especially optimized the performance of its software with the current Version 4.0, Release 5. This helps users significantly accelerate their processes without functional restrictions. Examples include machine simulation, working with tool sets, searching for tools in feature machining or exchanging tools in the Job Manager.
Over the years, Tebis has continued to expand and modernize the functionality of its software. With the new release, NC programming is now largely automated based on templates with process libraries that enable fast and reliable procedures and processes. Users can also easily edit large and complex parts with Tebis.
Convenient and powerful technologies place large demands on computing resources and can easily affect performance. Tebis has identified that the heaviest loads occur in specific processes…the so-called bottlenecks that can result in long waiting times as well as heavy use of resources and conflicts. The Tebis developers then adapted the system to optimize the use of all available memory. Multi-core technology relying on parallel processing was simultaneously integrated.
The extended parallel processing now used saves significant time, especially in the calculation of NC programs for re-roughing. Parts can be loaded, shaded and saved with time optimization.
Tebis America, part of Tebis AG, Munich, Germany, develops CAD/CAM systems for tool, die and mold manufacturing, primarily for automobile and aircraft manufacturers and their subcontractors from the styling, model making, tool and mold manufacturing sectors. The company supplies turnkey installations and provides a full suite of 40 software modules focusing on increasing its customers' ability to reach higher profits through consulting implementing of new technology, training and support.
Related