TDR Enhancement Module provides differential measurements.
Press Release Summary: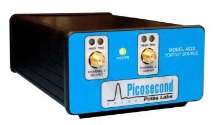 Model 4022 Differential Time Domain Reflectrometry Source Enhancement Module works in conjunction with TDR plug-in and 50 or 70 GHz sampling oscilloscope. It provides 9 ps rise-time signals to measure features as small as 0.5 mm in differential communication links. TDR measurements identify small physical transitions in connectors and components that impair performance. Model 4022 can also be configured to provide TDR signals for differential and common mode measurements.
---
Original Press Release:

Picosecond Pulse Labs Announces High-resolution 9 ps Differential TDR Instrument


The Model 4022 Differential Time Domain Reflectometry (TDR) Source Enhancement Module provides 9-picosecond rise-time signals to measure features as small as 0.5 mm in differential communication links. It is designed to work in conjunction with either Agilent or Tektronix TDR products. When used with an Agilent or Tektronix TDR plug-in and a high- bandwidth (50 GHz or 70 GHz) sampling oscilloscope, the Model 4022 improves the resolution of differential TDR measurements by two to four times. It may also be used for TDR common mode measurements of a differential link.

High-resolution TDR is particularly useful in the characterization of components, interconnects, backplanes, and circuit boards that are used in multi-gigabit differential communication (SERDES) structures like XFI/XFP, LVDS, PCI Express, Serial ATA, Serial Attached SCSI, Fibre Channel, HSBI and others. TDR measurements identify small physical transitions in connectors and component packages that impair performance. High-resolution TDR measurement results compare favorably with 65 GHz Vector Network Analyzer (VNA) measurements, but TDR techniques are faster, more intuitive, and do not require laborious system calibration.

The Model 4022 can also be configured to provide Time Domain Transmission (TDT) signals (2.5 V and 7 ps rise-time) for both differential and common mode measurements.

The Model 4022 Differential TDR Source base US price is $23,995 with a six- week delivery interval.

4022 Product Specification http://picosecond.com/NL09/4022spec

The Model 4020 Single Ended TDR/TDT Source Enhancement Module was introduced earlier this year.

4020 Product Specification http://picosecond.com/NL09/4020spec

For more information on these TDR/TDT instruments, visit the following:

TDR/TDT Instruments
http://picosecond.com/NL09/TDR

More from Fluid & Gas Flow Equipment