TDR Cable Analyzer measures frequency domain S-parameters.
Press Release Summary: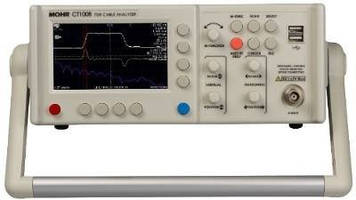 Featuring portable design, CT100B TDR Cable Analyzer provides step TDR impedance waveforms with resolution sufficient to show connector detail (~1 cm). Unit is also capable of making calibrated frequency domain S-parameter measurements, including return loss (S11) and cable loss/insertion loss (S21). Fully re-engineered sampling engine allows for waveforms up to 1.5 million points long, while subpixel sampling ensures that every detectable cable fault is visible at every horizontal scale.
---
Original Press Release:

Meet the Industry's First TDR Cable Analyzer with Frequency Domain S-Parameter Measurements



High-Resolution Portable TDR Resolves Connector Detail and Features Return Loss (S11), Cable Loss (S21), Smith Charts, and Normalized TDR Waveforms



RICHLAND, Wash.,  -- Although Time-Domain Reflectometer (TDR) cable testers are prized for their ability to detect and localize cable faults and measure cable length, they have not been able to characterize the frequency domain microwave/RF performance of cables and connectors like instruments based on Vector Network Analyzer (VNA) technology. However, this all changes with the new CT100B TDR Cable Analyzer from MOHR Test and Measurement, LLC (MOHR).



MOHR CT100B TDR Cable Analyzer

The CT100B is special for two reasons: (1) It is the industry's only high-resolution portable TDR providing step TDR impedance waveforms with resolution sufficient to show connector detail (~1 cm), and (2) it is the industry's first portable TDR capable of making frequency domain S-parameter measurements including return loss (S11) and cable loss / insertion loss (S21).



"High resolution TDR is extremely useful for detecting and localizing cable faults and characterizing cable and connector performance, but historically, portable TDRs have been unable to display OSL-calibrated S-parameter measurements," said Brandt Mohr, MOHR chief technologist. "The CT100B includes that capability, making it a very versatile instrument. If you can only carry one cable tester out into the field with you, it should be the CT100B."



In addition to the introduction of calibrated S-parameter measurements, the CT100B Cable Analyzer improves upon its predecessor, the CT100 Cable Tester, in several other areas:



Multicore CPU with up to 300 times better CPU performance.

16 times more internal RAM memory.

Fully re-engineered sampling engine allows for waveforms up to 1.5 million points long.

Subpixel sampling ensures that every detectable cable fault is visible at every horizontal scale.



According to Mohr, the CT100B's TDR technology is inherently better suited to general cable testing than VNA technology for several reasons:



The CT100B does not suffer from the inherent range / resolution tradeoff in the Distance-to-Fault (DTF) waveforms calculated by a VNA-based instrument through the inverse Fast Fourier Transform (iFFT), so DTF measurements can be hundreds of times more accurate than those from a VNA of similar bandwidth.



The CT100B acquires impedance measurements sequentially over time, so it can time-window features of interest, like a connector or fault in the middle of a cable, while excluding features that aren't of interest, such as the cable termination or other connectors.



The CT100B can directly test coaxial cables with a wide range of characteristic impedance as well as twisted-pair cable and multi-conductor cable assemblies.

CT100B TDR waveforms are not prone to calibration drift over time or temperature, unlike typical VNA instruments, making measurements quicker and easier.



About the CT100B TDR and CT Viewer 2 Software

The CT100B starts at $18,995 US MSRP and features either BNC or SMA test port, step-rise test signal with 100 ps or 60 ps system rise time (20-80% [typ.), up to 8.3 GHz TDR bandwidth (CT100HF [typ.), 0.003 in. (75 micron) cursor resolution, and horizontal range up to 44,000 ft. (13.4 km). The CT100B features a variety of unique software tools simplifying cable troubleshooting and maintenance. CT100B TDRs come bundled with CT Viewer™ 2 TDR waveform analysis software designed for Microsoft® Windows®. To learn more about the CT100B TDR Cable Analyzer, visit http://www.mohrtm.com/ct100b.



About MOHR

MOHR has developed innovative test and measurement instrumentation for more than 33 years. Learn more at http://www.mohrtm.com.



Media Contact:

Chris Mulkey

+1 (509) 946-0941

More from Materials