TDM Cloud Line Solution is suitable for virtual cutting process applications.
Press Release Summary: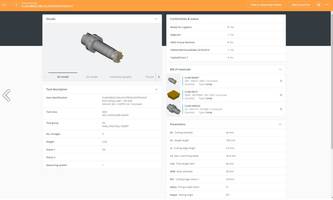 TDM Cloud Line allows user to download and manage data from thousands of tools. Unit enables operator to test alternative tools during the design process. Product helps to select exact tool for specified design. Solution offers provisioning of correct CAM data, statistical evaluation and individual configurable user interface.
---
Original Press Release:
TDM Systems Introduces TDM Cloud Line…Revolutionizing Tool Data Management Worldwide
TDM Systems and Sandvik Machining Solutions are playing a leading role in the modernization of tooling
TDM Systems, a subsidiary of Sandvik Machining Solutions has announced the introduction of the world's first cloud-based solution for Tool Data Management…TDM Cloud Line. A solution that enables manufacturers to easily access tool data wherever, whenever. The official launch is slated for December 1, 2017.
"The digital development process often still fails as a result of data gaps and media breaks in the tool area," explains Peter Schneck, CEO of TDM Systems. "The quality and availability of tool data is crucial to the success of metalworking companies. Our cloud-based solution marks the start of the digital transformation for users."
TDM Cloud Line is based on TDM 2017 Global Line, the fully modernized tool data management solution launched earlier in 2017. The key advantage of TDM Cloud Line is that users can download and manage data from thousands of tools without having to purchase them. It can test alternative tools during the product design process and select the optimum tool for the specific design. At present, users have only data from tool manufacturers available to them, which can vary both in quality and depth. Data from the TDM cloud is available anywhere and is ready for immediate usage in the virtual cutting process.
"Sandvik is assuming a leading role in the digital transformation of tooling with the introduction of TDM Cloud Line," says Hugo Nordell, Director Digital Solutions, Sandvik Machining Solutions. "The TDM Cloud Line solution enables customers to accelerate their engineering process, simulate the use of various tools and securely plan production on the basis of comprehensive, precise tool data."
TDM Cloud Line offers numerous advantages: Easy set-up of your own tool database; optimally prepared, tested and comprehensive tool data for immediate, intuitive use; provisioning of correct CAM data; manufacturer-independent tool assembly; statistical evaluation; clearly structured and individually configurable user interface and cloud-based solution available at any time in any location
For more than 25 years, TDM Systems has been the leading provider of tool data management in the machining industry. With the Tool Lifecycle Management strategy, TDM Systems is focusing on process optimization through optimal tool planning and provisioning. Creating and editing tool data and graphics, integrating tool know-how and 3D graphics into the CAM planning and organizing the complete tool cycle on the shop floor level are the three core competencies of TDM Systems. As a competence center within the Sandvik Group, TDM Systems draws on the expertise of various tool manufacturers in developing its software products. www.tdmsystems.com
More from Electrical Equipment & Systems