TCXO is available from 50-100 MHz.
Press Release Summary: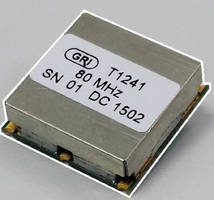 With very low g-sensitivity down to ≤ 7x10-11/g, Model T1241 provides optimized phase noise performance under shock and vibration. Unit features 3.3 Vdc supply, CMOS Squarewave output, and temperature stability to ±0.3 ppm in temperatures from -40 to +85°C. Housed in rugged SMT package measuring 0.680 x 0.6800 x 0.200 in., temperature compensated crystal oscillator is suitable for mobile RF applications.
---
Original Press Release:
Greenray Introduces T1241 TCXO
Mechanicsburg, PA — The T1241 TCXO features very low g-sensitivity of down to  ≤7x10-11/g, providing superior phase noise performance under shock and vibration.  The T1241 TCXO is ideal for mobile requirements that need good phase noise during vibration, and is available from 50MHz to 100MHz

T124 TCXO Overview

Greenray Industries' T124 TCXO features Ultra-low frequency & rugged SMT package.

Features
Available from 1.25MHz to 5MHz
17.27 x 17.27 x 5.08 mm (0.680 x 0.6800 x 0.200 in.) package
3.3 Vdc Supply
CMOS Squarewave output

Benefits
Temp Stability to ±0.3ppm (-40 to +85°C)
Low Power consumption
Extended, long-term stability performance
Ideal for mobile, RF applications

About Greenray
Greenray Industries is a leading supplier of high precision, quartz-based oscillators for use in wireless, wired telephony, aerospace, military, satellite, and other communications applications. Greenray Industries is a of OCXOs, TCXOs, and VCXOs, precision quartz crystal oscillators that function as precision signal sources for communications, instrumentation and military applications. Our high performance frequency control devices are designed for demanding applications from 1 Hz to 1 GHz.

Information regarding the T53 TCXO and all Greenray products is available at www.greenrayindustries.com.

Product Info:
sales@greenrayindustries.com  
Greenray Industries, Inc.
TEL: (717) 766-0223

Company Name: Greenray Industries, Inc.
City: Mechanicsburg
State: PA
Zip: 17055
Phone: 717-766-0223
URL:www.greenrayindustries.com
 
Related