TCP/IP Central Station Receiver accommodates VoIP growth.
Press Release Summary: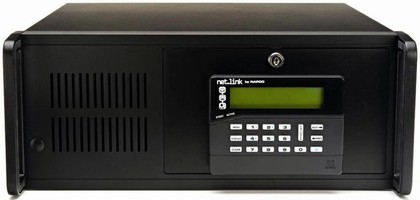 UL-listed, rack-mount NetLink(TM) NL-RCV-RMPCUL helps meet needs of UL central stations that must adapt to widespread adoption of VoIP services. Fully compliant with UL Central Station applications requiring primary and mirrored backup receivers, this secure Internet alarm reporting product features automatic or manual operational modes and communicates using secure, NIST/AES 128-bit encryption and offers Hot Backup, duplicate receiver functionality when used in pairs.
---
Original Press Release:

Napco Introduces New UL Listed NetLink TCP/IP Central Station Receiver Addressing Growing VoIP Trend



Amityville, NY - NAPCO Security Systems, Inc., is pleased to announce the availability of its new NetLink UL Listed TCP/IP Central Station Receiver. This is the latest product in NAPCO's growing family of NetLink alarm reporting products, and addresses the increasing need for UL central stations to adopt new receiver technologies to combat the widespread adoption of Voice-over Internet Protocol (VoIP) in place of traditional "telco" services.

Napco's NetLink(TM) NL-RCV-RMPCUL is an advanced, rack-mounted receiver enabling cost-effective. secure internet alarm reporting. While in full compliance with UL Central Station applications, requiring primary and mirrored backup receivers, two (2) NetLink UL Receivers can be installed at the same cost as a single traditional receiver.

Both NetLink TCP/IP UL Receivers interface with the conventional CS automation system and are simply connected to each other with a network crossover cable, where the mirrored receiver serves as a Hot Backup, duplicate receiver. NetLink UL TCP/IP Receivers feature two modes of operation, Automatic Mode, where alarm signals are sent normally to the automation system for processing, or Manual Mode, used when direct operator interaction is desired, accomplished thru an easy, menu-driven keypad-style alphanumeric interface on the face of the receiver. NL-RCV-RMPCUL is listed for UL864 (Control Units for Fire Protective Signaling Systems) and UL1610 (Central Station Burglar Alarm Units).

And, any brand of alarm system installation, old or new, faced with the absence of traditional "telco / land lines", can be simply, economically equipped with a Napco NetLink Module. It will then communicate to the central station's NetLink TCP/IP Receiver(s), using secure, NIST/AES 128bit encryption. There, the panel module source is immediately received, authenticated as a valid account, and its alarm reports decoded and sent to awaiting CS operators for disposition. (Alarm Panels can report online with either NetLink Internet Module: Original NetLink NL-MOD or more economical, new NetLink NET-COMM.)

Visit our website at www.napcosecurity.com to learn more about Napco's extensive line of security products or to find any of more than 100 independent security distributors nationwide that carry the full NAPCO lineup. If you have any questions or require ceu-accredited field-training, feel free to contact your NAPCO Sales Manager or customer service at 1-800-645-9445 or email us at hotline@napcosecurity.com.

About Napco Security Group

The Napco Security Group (NASDAQ: NSSC) is a leading diversified manufacturer of security products, encompassing burglar and fire alarms, access control systems, video and electronic digital and proximity locks, as well as panic exit hardware. Sold and installed by security dealers, locksmiths and systems integrators to millions of homes, businesses, and institutions around the globe.

Company Contact:
Michele Kraemer
Napco Security Group
333 Bayview Avenue
Amityville, NY 11701
631-842-9400
mkraemer@napcosecurity.com